​Air Force nuke missile crew was 'substandard,' reveals new report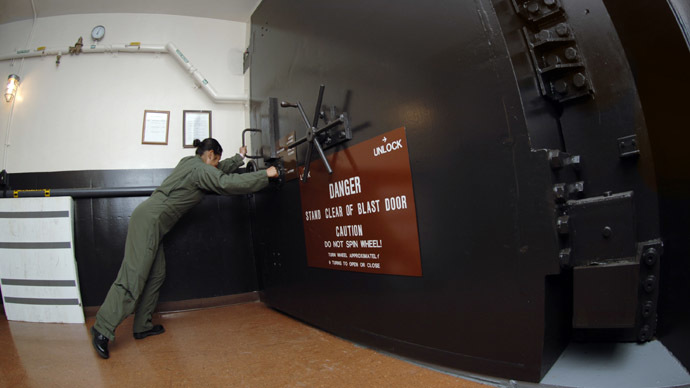 Airmen responsible for intercontinental ballistic missile operations at Minot Air Force Base, North Dakota only passed an inspection in March 2013 with a "marginal" rating thanks to good marks given to support staff.
Documents given to the Associated Press show the inspection score could have been much worse since launch officers that operate 150 Minuteman 3 missiles flunked their part of the inspection. The "marginal" rating, the equivalent of a "D" grade in school, was only possible since cooks and facilities managers, for example, received high marks.
"Missileer technical proficiency substandard," a briefing slide within the document set reports. "Remainder (of missile operations team) raised grade to marginal."
The documents also indicate that the 91st Missile Wing at Minot had a budding exam-cheating problem in the launch crew ranks, almost a year before January 2014 allegations of widespread cheating at a companion nuclear base at the 341st Missile Wing at Malmstrom Air Force Base in Montana.
An Air Force inquiry into the poor performance in the March 2013 Minot inspection found sub-par use of routine testing and other ways of gauging launch crew competency. For instance, the review found commanders at Minot failed to supervise monthly written tests for launch officers. It also found Minot leaders did not maintain a "culture of accountability."
One reference in the obtained documents to troubled exams said "Group testing was viewed as 'taking care of each other,'" and that missileers felt pressure to attain perfect scores on every test since promotions often depended on it.
The Air Force initially called the March 2013 inspection a "success." But after AP learned of the "marginal" scoring in the missile operations aspect of the inspection, the service said 19 officers were made to surrender their launch authority in April. Minot's then-deputy operations commander Lt. Col. Jay Folds at the time said there was "rot" in the force.
It was then unknown that of 11 Minot crews tested on a missile launch simulator for inspection, three were rated Q3, or "unqualified." The Air Force defines that rating as "an unacceptable level of safety, performance or knowledge." Five of the 11 crews scored a top rating, while three got a second-tier assessment.
A September inspection went much smoother, as 11 of 12 launch crews earned top scores. In consecutive inspections this January, all Minot crews earned top marks.
In October, AP reported that that two US missile technicians – one at Minot and one at Malmstrom – assigned with launch keys were discovered repeatedly leaving a blast door open while sleeping. In both episodes, a concrete-and-steel door to the underground launch control center was left open. However the Air Force claimed security was not compromised "due to the multiple safeguards and other protections in place."
The blast doors to US nuclear munitions are never to be left open if one of the officers inside is asleep as an intruder can compromise the secret launch codes. Sleep rests are permitted during a 24-hour shift, also known as an "alert." But the rules stipulate that the door designed to protect the crew from the blast effects of a direct nuclear strike, must be closed if one is napping.
The Air Force maintains a total of 450 Minuteman 3 nuclear missiles stored at evenly at three air bases.
Each base has security forces for underground launch control centers, as well as officers and support staff, like facility managers and cooks, working on the premises. Yet the core of each base's mission rest with the missileers and their ability to execute "emergency war orders" that would authorize a launch.
The Air Force documents were released by the group Speaking Truth to Power after the private organization sued US Strategic Command, which oversees nuclear operations, after it refused to adequately answer public information requests. Speaking Truth to Power, which advocates the elimination of nuclear weapons, shared the documents with AP.
You can share this story on social media: