For men, birth control could get as easy as a shoulder rub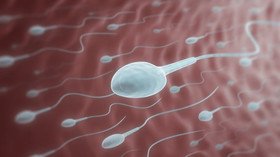 The first-ever US patient has undergone testing for male birth control. The contraception works as a gel that men rub on their shoulders once a day to reduce their sperm count.
The international year-long trial, based in Washington, began on Tuesday with the first US couple, the second US couple started their trial on Friday while a third US male will be joining later. The groundbreaking study involves 420 couples in total from seven different countries including Chile, England, Scotland, Kenya, Sweden and Italy.
The NES/T gel works by inhibiting a man's natural testosterone production and thus reducing his viable sperm count. It involves a combination of progestive (Neostorone) and testosterone to interrupt the normal hormone production in the testicles.
READ MORE: 'Some men have a uterus' tweet lands Planned Parenthood in a storm
"That's why it works, because sperms require all that testosterone inside the testicle," Dr. Stephanie Page, a professor of medicine at the University of Washington who's leading the trial, told the Business Insider.
If successful, the gel will be a welcome alternative for couples who can't use condoms (which are only 85 percent effective), and women who experience uncomfortable or severe side effects from conventional contraceptives.
"Many women cannot use hormonal contraception and male contraceptive methods are limited to vasectomy and condoms," said study investigator Dr. Diana Blithe. "A safe, highly effective and reversible method of male contraception would fill an important public health need."
READ MORE: 'Woman's responsibility': Only 1 in 10 British men would use male contraceptive pill
The gel takes about 12 weeks before its effective and must be administered once a day with a single pump of gel on each shoulder that dries in about five minutes. It's suggested that men apply it after the shower, and refrain from getting wet again for at least four hours.
Men are also advised to shower the solution off, or wear a shirt to cover their shoulders, if they intend on becoming intimate with the opposite sex or being in close contact with children. Unlike previous hormone-based birth control options, the gel doesn't affect testosterone levels in other parts of the body.
The trial is expected to run until at least 2021, with each participant using the gel for a minimum of 12 months. Participating couples were required to have been in a stable, committed, monogamous relationship for at least a year before they start the trial. Men can range in age from 18 to 50, while the women must all be under 35 with regular monthly periods.
READ MORE: US prison inmates sue for 'constitutional right' to pornography
The promise that males may finally share the birth control burden has been welcomed by many, however the prospect that it involves a shoulder rub with little side effects appears to have 'rubbed' those who have endured years of painful procedures, the wrong way.
If the trial is successful, the study would then be replicated among several thousand people before it would eventually go before the Food and Drug Administration to put it on shelves around the country.
Think your friends would be interested? Share this story!
You can share this story on social media: