Kamala Harris compares US immigration agency ICE to the KKK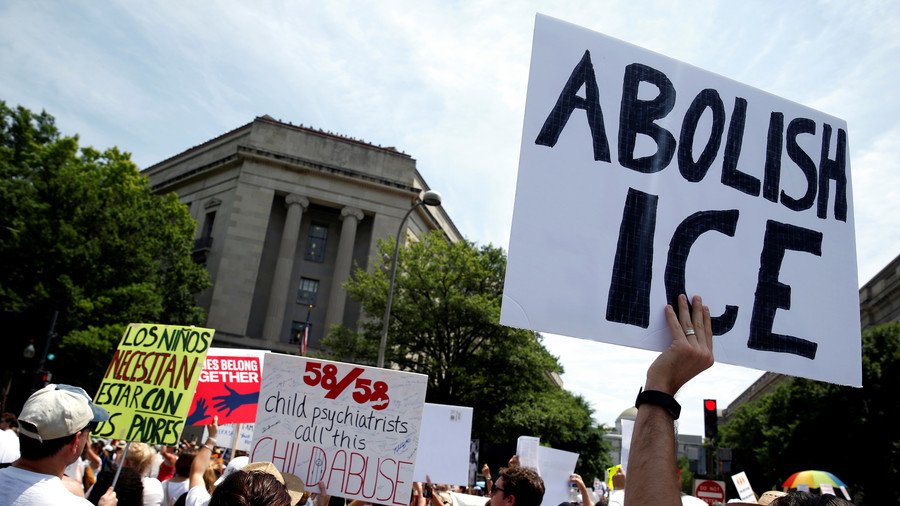 Progressive Senator Kamala Harris has compared the US Immigration and Customs Enforcement with the Ku-Klux-Klan, at a hearing to fully confirm the controversial agency's acting director, Ronald Vitiello.
Harris is a longtime proponent of slackening border security and "welcoming" immigrant caravans. On Thursday she stuck to her guns, grilling Vitiello on a tweet he made in 2015 calling the Democratic party "neo-Klanist."
The California senator then suggested that Vitiello's agency ICE is the group that should wear the white robes and hood.
"Are you aware of the perception of many about how the power and the discretion at ICE is being used to enforce the laws and do you see any parallels?" she asked.
"I do not see any parallels," Vitiello cut in. "That puts ICE in the same category as the KKK. Is that what you're asking me?"
Harris persisted: "No, I'm very specific in what I'm asking you. Are you aware of a perception that the way that they…"
"I see none," Vitiello interrupted.
"Are you aware that there is a perception that ICE is administering its power in a way that is causing fear and intimidation, particularly among immigrants and specifically among immigrants coming from Mexico and Central America?" the Senator asked again, to which Vitiello replied that he was not.
Harris' reaching comparison drew disgust from conservatives.
Democrat Senator Kamala Harris compares ICE to the KKK and appears to suggest that they are a terrorist group during a Senate hearing to consider the nomination of Ronald Vitello to be the director of ICE.51% of ICE agents were Hispanic or Latino at the end of fiscal year 2016. pic.twitter.com/3coo3hljET

— Ryan Saavedra (@RealSaavedra) November 15, 2018
This is appalling. 2020 hopeful Kamala Harris just compared ICE to the KKK!What utter, complete & horrifying disrespect for our law enforcement officers. I get she's auditioning for 2020, but come on... https://t.co/JbHmG55cX1

— Kayleigh McEnany (@kayleighmcenany) November 15, 2018
ICE was formed after the Homeland Security Act of 2002 was enacted and is tasked with enforcing US immigration law. The agency came under intense scrutiny from the left this year, particularly for its role in enforcing President Trump's 'zero tolerance' immigration policy, which included detaining illegal immigrant children separated from their parents.
In this climate, "Abolish ICE" became a rallying cry for the progressive wing of the Democratic party, with Senators Kirsten Gillibrand (New York) and Elizabeth Warren (Massachusetts), as well as newly minted New York Rep. Alexandria Ocasio-Cortez demanding the agency's abolition.
Harris has called for "a complete overhaul" to be made to the agency, but has stopped short of calling for its outright abolition.
At his hearing on Thursday, Vitiello decried the left's rhetoric about his agency, saying that political vitriol and threats of violence from Antifa and others have left his officers demoralized.
"They should not have to bear the burden of attacks motivated largely by political and policy disagreements," he said.
Like this story? Share it with a friend!
You can share this story on social media: