You forgot Hindus… twice: Trump roasted over botched Diwali festival tweets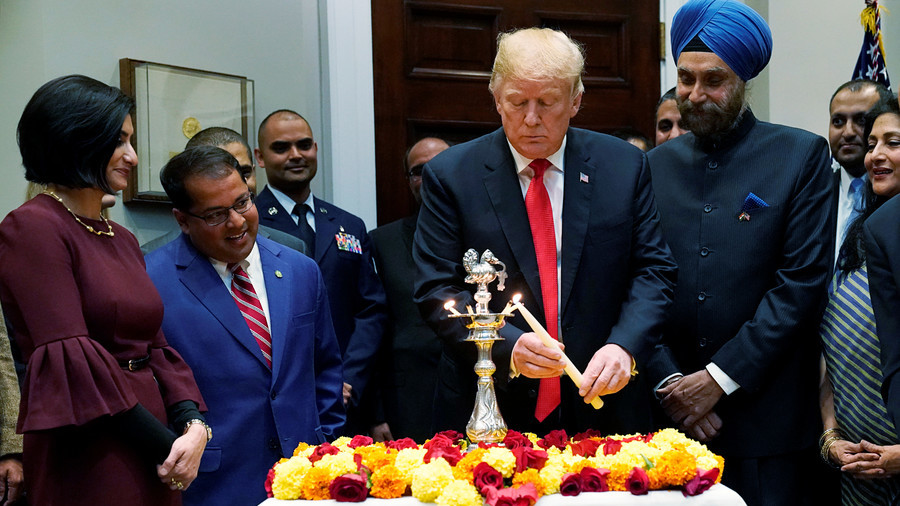 US president Donald Trump lit the traditional Diwali lamp at the White House and tweeted a greeting to the celebrants, only to have Twitter light into him instead over forgetting Hindus, the biggest group celebrating the festival!
Diwali is observed by "Buddhists, Sikhs, and Jains throughout the United States & around the world," Trump tweeted, along with photos of him lighting the Diya surrounded by aides of Indian origin and flanked by India's ambassador to Washington. There was just one tiny problem: he left out the Hindus.
This wasn't a momentary lapse either. The original tweet was deleted, and posted again with a different link, but still no mention of the billion Hindus for whom this is their main annual celebration.
Finally, the White House got this right, with a third tweet, that did not acknowledge the oversight, but called Diwali a "Hindu Festival of Lights."
The president's critics in the online #Resistance were quick to pounce on the omission:
Others pointed out that Trump's ceremony was almost a week off, since actual Diwali was on November 7. The US president had gone to Paris for Armistice Day commemorations, though.
Though the tweet went out from Trump's personal account, rather than the official @POTUS one, many speculated it was written by one of his staffers instead of the president himself.
Moreover, in his remarks at the ceremony, Trump did clearly identify Diwali as a Hindu so leaving Hindus out of the tweet was puzzling at best.
Capitalizing on the timing, at the ceremony Trump announced he would nominate Neomi Rao, who is of Parsi-Indian origin, to the appeals court seat previously held by Supreme Court Justice Brett Kavanaugh. Rao currently heads the Office of Information and Regulatory Affairs (OIRA).
Think your friends would be interested? Share this story!