Satire nose no bounds: Mattis didn't avert nuclear war by grabbing Trump's nostrils, journo confirms
Published time: 5 Sep, 2018 11:27
Edited time: 6 Sep, 2018 09:44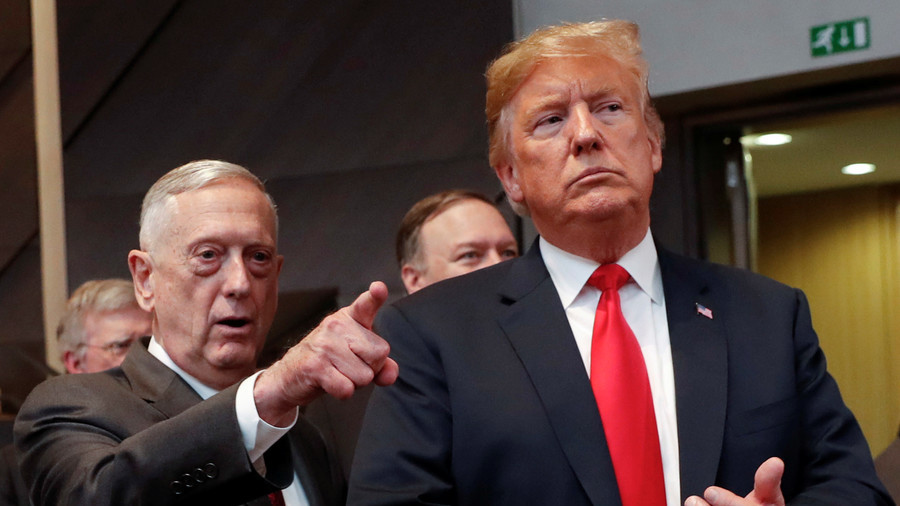 In a comical reflection of the current US political climate, a sports journalist has been forced to admit that James Mattis did not, in fact, grab US President Donald Trump's nose during a heated exchange over nuking North Korea.
Grant Brisbee, a senior baseball writer for SB Nation, tweeted what he (jokingly) claimed was an excerpt for Bob Woodward's explosive new book, 'Fear: Trump in the White House,' real excerpts of which were published by the Washington Post Tuesday.
"Man, this new Bob Woodward book is going to be *wild,*" Brisbee tweeted above a tongue-in-cheek excerpt in which nuclear war between the US and North Korea was apparently averted when US Secretary of Defense James 'Mad Dog' Mattis grabbed Trump's nose.
What should have been painfully obvious satire quickly descended into chaos on Brisbee's Twitter feed. Even a number of anti-Trumpers were duped, if only briefly.
There are actually people tweeting things like, "This is unacceptable. What is going on over there? WAKE UP, GOP" at me, and it hurts my soul.

— Grant Brisbee (@GrantBrisbee) September 4, 2018
People's satire detectors died a long time ago, man.

— Michael "Kick The Nazis Out" Griffin (@literateartist) September 4, 2018
I believed it originally, retweeted it then took it back. I said to myself, this cannot be true. But, when U compare it to what is really the truth, not far off. #TheResistance

— jackie (@GeminijlwWilson) September 4, 2018
Things took an even more bizarre twist when sardonic comments below Brisbee's tweet were misinterpreted.
in a fun twist, some people who understood your tweet to be satire did not understand my "grant is this real" reply to be sarcasm. what a great day online.

— Brian Grubb (@briancgrubb) September 5, 2018
While, in this instance at least, fiction remains stranger than fact, it seems the two are beginning to become blurred under the current White House administration. Among the actual claims made in Woodward's new book are: that Trump ordered Mattis to "f**king kill" Assad; that Mattis compared Trump to a 'fifth or sixth grader'; and that White House Chief of Staff John Kelly described the president as an 'unhinged idiot.'
READ MORE: 'Made up frauds'? Book claims Trump is called an 'idiot' by aides & wanted to 'f**king kill' Assad
Naturally, it wasn't long before Trump himself took to Twitter to claim the quotes were made up and that the timing of the book's release ahead of the November midterm elections was conspicuous.
The Woodward book has already been refuted and discredited by General (Secretary of Defense) James Mattis and General (Chief of Staff) John Kelly. Their quotes were made up frauds, a con on the public. Likewise other stories and quotes. Woodward is a Dem operative? Notice timing?

— Donald J. Trump (@realDonaldTrump) September 4, 2018
Like this story? Share it with a friend!