Holy smoke! Dramatic footage captures moment aircraft douses California wildfire (VIDEO)
Published time: 9 Aug, 2018 14:56
Edited time: 10 Aug, 2018 08:46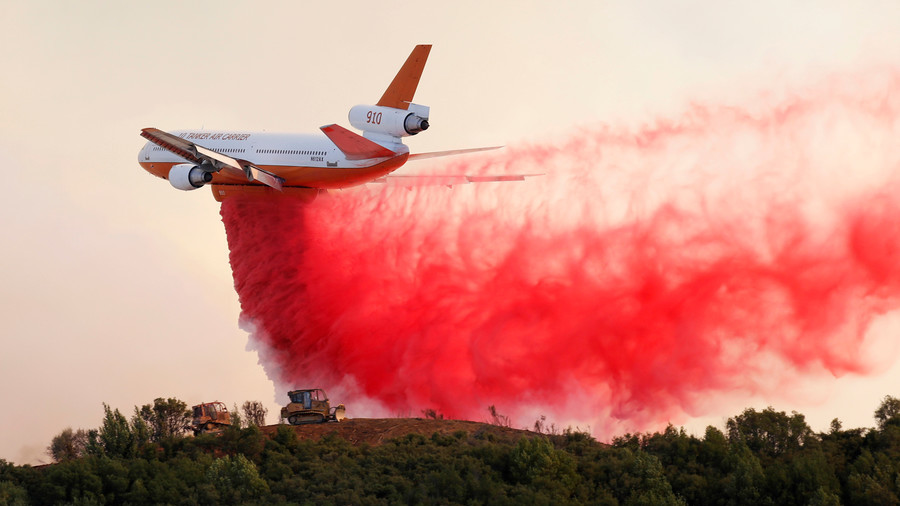 Spectacular footage captured at the scene of a California wildfire has laid bare the scale of the Holy fire disaster as well as the size of the operation being mounted to combat it.
READ MORE: 'Firenado' flames lick roadside as emergency services battle California blaze (VIDEO)
Video filmed from a housing complex by Cary Bilstein, a recruitment industry specialist in Orange County, shows fires burning through foliage in the hills above the homes while a number of planes circle overhead. One then swoops in low behind a row of houses before opening its bay doors and dumping its load of flame retardant liquid over the ground.
Some 6,200 acres (25 sq km) of land has been burned in the fires since Wednesday, according the Orange County Register. Officials are wary that the fire could threaten more homes if the wind were to change direction or the fire were to branch into drainage basins.
READ MORE: Raging Mendocino Complex fire becomes largest in Californian history (VIDEOS, PHOTOS)
Holy fire is the just the latest wildfire to tear across California, along with the massive Mendocino Complex fire which had grown to around 300,000 acres by Monday evening. Earlier this week, emergency services declared the Mendocino fire the largest in the history of the state.
Think your friends would be interested? Share this story!