Mueller coming for evidence? No problem, just smash your phones, Hannity says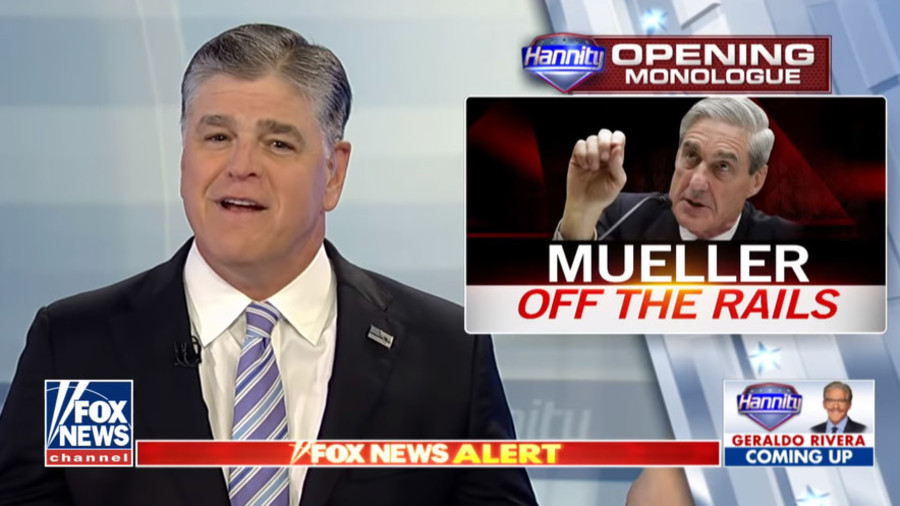 Special Counsel Robert Mueller is reportedly asking witnesses for their cell phones as his Russiagate investigation drags on. Fox News' Sean Hannity has some simple advice for the witnesses: smash your phones.
White House Special Counsel Robert Mueller - charged with investigating alleged links between President Donald Trump's campaign team and Russia - is requesting that witnesses turn in their cell phones for examination, according to CNBC sources.
Mueller is reportedly interested in examining the witnesses' private conversations on encrypted messaging apps like WhatsApp, Confide, Signal, and Dust. It is still unclear whether Mueller has actually uncovered any incriminating evidence, but witnesses are reportedly complying with the request, fearing a subpoena.
Fox News' Sean Hannity, an outspoken supporter of President Trump, chimed in Wednesday with some sarcastic advice for the witnesses. Speaking on his primetime show, Hannity had this to say:
"Follow Hillary Clinton's lead, delete all your emails and then acid-wash the emails and hard drives on your phones, then take your phones and bash 'em with a hammer to little itsy bitsy pieces, use BleachBit, remove the SIM cards and then take the pieces and hand it over to Robert Mueller and say, 'Hillary Rodham Clinton, this is equal justice under the law' - how do you think that would work out for everybody who Mueller is demanding their phones of tonight? I'm certain the result would not be the same as Hillary's."
Hannity referred to the elaborate process Hillary Clinton went through to delete some 33,000 emails from the private server she used during her time as secretary of state. Her staff reportedly destroyed a number of cell phones that were used for accessing the emails, by smashing them up.
According to an FBI report, Clinton did this while under subpoena. Clinton denied that the emails were relevant to the FBI investigation, claiming that they were about "yoga routines, family vacations, the other things you typically find in inboxes."
The comparison went right over the heads of the anti-Trump army on Twitter. To them, Hannity was not just offering some tongue-in-cheek advice, he was breaking the law.
Cell phone use landed Trump's former campaign chairman, Paul Manafort, in trouble this week, too. Mueller's prosecutors accused Manafort on Monday of tampering with witnesses, attempting to contact them by phone and through an encrypted messaging app.
Manafort has been indicted by Mueller, not for colluding with Russia, but for tax and bank fraud charges from over a decade ago, and for failing to properly register his lobbying work for former Ukrainian President Viktor Yanukovych.
Mueller's team cites a short phone call and a handful of texts as proof of tampering, but to some experts, the evidence is thin on the ground, and suggests that Mueller is attempting to pressure Manafort into cooperating, and speed up his now year-long investigation, reportedly set to wind down around September.
Mueller's investigation has so far found no evidence of collusion between the Trump campaign and Russia, and has cost taxpayers almost $17 million to date.
Trump took to Twitter on Thursday morning to again vent his frustration at Mueller, referring to the fact that 13 of Mueller's 17 investigators are Democrats and calling the whole investigation "a Democrat Excuse for LOSING the Election."
"When and where will all of the many conflicts of interest be listed by the 13 Angry Democrats (plus) working on the Witch Hunt Hoax. There has never been a group of people on a case so biased or conflicted. It is all a Democrat Excuse for LOSING the Election. Where is the server?" he tweeted.