Teachers striking over pay rise like 'a teenager wanting a better car' – Oklahoma governor
Published time: 4 Apr, 2018 16:39
Edited time: 5 Apr, 2018 13:01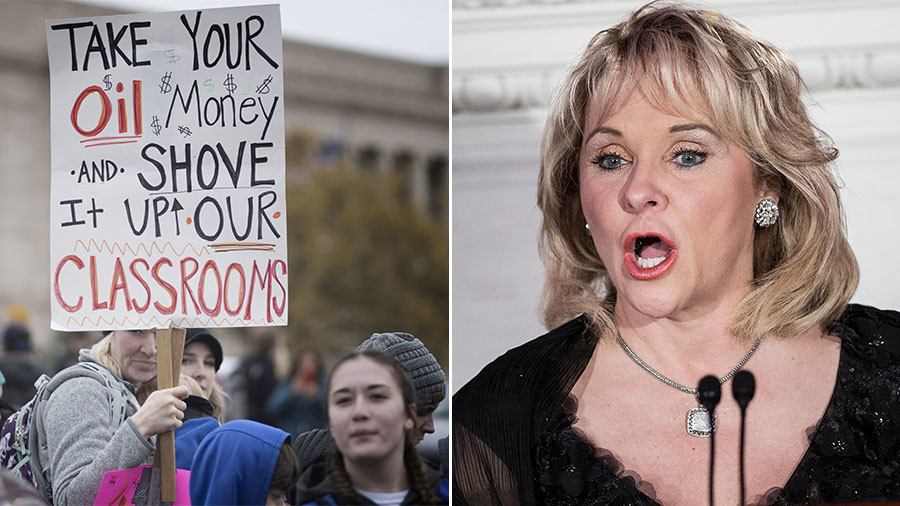 Oklahoma Governor Mary Fallin compared state teachers on strike to teenagers who want a better car. Educators have been on walkout for a third day over low wages and underfunding, despite lawmakers agreeing to meet some demands.
"Teachers want more," Fallin told CBS News in an interview. "But it's kind of like a teenager wanting a better car." Oklahoma teacher salaries are among the lowest in the country, ranking at 49th, according to the National Education Association.
Over 30,000 teachers have walked out of schools across Oklahoma this week, protesting what they say are teacher shortages, low salaries, and under-resourced public schools.
On Tuesday, Fallin signed a bill which provides $2.9 billion of education funding including $353.5 million for teacher pay and $33 million for textbooks.
Teachers unions have rejected the bill, saying it does not provide enough funding, and have called for state tax hikes to fill the shortfall. "This legislation falls well short of fixing those problems. These measures leave millions in revenue on the table and still leave Oklahoma students among the worst funded in the nation." Oklahoma Education Association President Alicia Priest said in a statement on Tuesday, according to News9.
Teachers in Oklahoma are demanding a $10,000 pay raise, and a $5,000 raise for other school workers, as well as more cash for school resources such as desks and textbooks.
Fallin's remarks ramped up the increasingly acrimonious relations between lawmakers and public educators, with many teachers reacting with fury on social media to her comments.
"This is a blatant example of the disrespect shown towards Oklahoma educators," Priest said in a video posted live on Facebook.
The teachers' strike continued for a third day on Wednesday as teachers assembled once again outside the state capitol. "It's like the Arab spring, but it's a teacher spring," geography teacher Toni Henson told the Guardian.

On Tuesday, teachers wielding placards and signs packed the state capitol in Oklahoma City to demand more funding for public schools.
Many have used social media to highlight the lack of up-to-date textbooks, desks, and chairs in their schools.

Meanwhile, educators in Republican-controlled Kentucky also staged walkouts this week against reduced budgets and a pensions dispute.
The walkouts in Oklahoma and Kentucky follow on the heels of a nine-day teachers strike in West Virginia. Teachers and state employees won a five-percent pay increase after the state's largest teachers' strike in 30 years.
Think your friends would be interested? Share this story!