'Momentous': US Supreme Court begins new session with full slate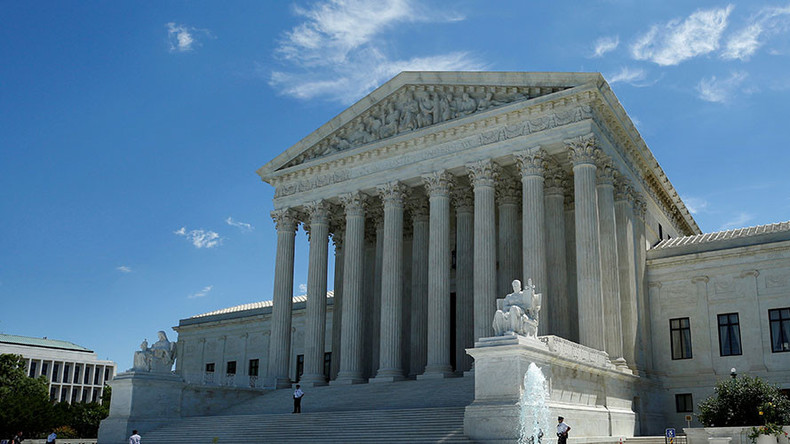 The US Supreme Court began its new session looking at a full slate of controversial cases, including freedom of religion and free expression, privacy in the age of the digital footprint, and partisan gerrymandering.
The court traditionally begins its annual session on the first Monday of October. Among the first cases before the nine Justices is a major clash between businesses and employees concerning the way to resolve disputes about pay, working conditions and other issues.
Arbitration or class-action suits
Employers want to be able to enforce a contract provision that forces workers with complaints to go to arbitration individually, rather than engage in class-action lawsuits. The employees say going it alone is too costly, makes it impossible to pool resources to hire a lawyer, and opens them to retaliation.
The case centers on Sheila Hobson, a former employee at a Murphy Oil USA gas station in Calera, Alabama, who objected to taking a survey of competitors' gas prices that she said took 30 to 90 minutes a day – without pay – on her way to and from work.
Hobson is being backed by the National Labor Relations Board, which found that the requirement for individual arbitration violated federal labor laws. The case is National Labor Relations Board v. Murphy Oil USA, Inc, docket 16-307.


Bake me a cake
Another case to watch is docket 16-111, Masterpiece Cakeshop, Ltd. v. Colorado Civil Rights Commission. In 2012, a same-sex couple went to the bakery in Lakewood, Colorado, to order a cake for their upcoming wedding reception. The owner of the shop, Jack Phillips, told them that he was perfectly willing to sell them a cake off the shelf but he would not create a custom cake for them, based on his religious convictions. Phillips argues he does not create cakes for Halloween either.
The couple filed a discrimination claim with the Colorado Civil Rights Commission, charging Phillips had violated the state public accommodations law, which bars discrimination on the basis of sexual orientation.
The commission ruled in their favor, as did the state supreme court. Phillips appealed to the US Supreme Court.
Gerrymandering
Gill v. Whitford, docket 16-1161, is a case involving "extreme partisan gerrymandering." The state of Wisconsin denies that the Republican legislature engaged in extreme redrawing of legislative district lines to perpetuate the party's power.
The state also argues that, regardless of how partisan a gerrymander may be, the courts should stay out of such political questions. The court will hear the arguments in the case this week.
Privacy vs Technology
Later in the term, the court will hear Carpenter v. United States (docket 16-402), a privacy-versus-technology case. At stake is whether law enforcement has to obtain a search warrant in order to get a cell site location information that, in this case, led to the apprehension and conviction of an armed burglary ring.
Cell phone providers retain general location information for calls made and received. Police have been able to get the general location information by obtaining a court order for the company's business records, which is much easier to acquire than a search warrant.
The outcome will determine "whether tiny drones can fly in the air and follow us from door to door and reconstruct our movements for a month, whether other forms of ubiquitous surveillance are permissible," George Washington University law professor Jeffrey Rosen told NPR.
It will be 'momentous'
Also under review will be whether federal law banning sports betting unconstitutionally commandeers the states into carrying out a federal mandate.
There are a variety of challenges to the labor movement and labor unions, among them whether public employees who choose not to join a union have a First Amendment right to avoid paying dues supporting collective bargaining.
One case that has been canceled was the October 10 argument over the Trump administration's travel ban, after the president announced a new policy last week that differs from the one the justices had decided to review.
"There's only one prediction that's entirely safe of the upcoming term, and that is it will be momentous," Justice Ruth Bader Ginsburg said at an event last week, according to Fox News.