Train derailment & fire prompts evacuation of Pennsylvania town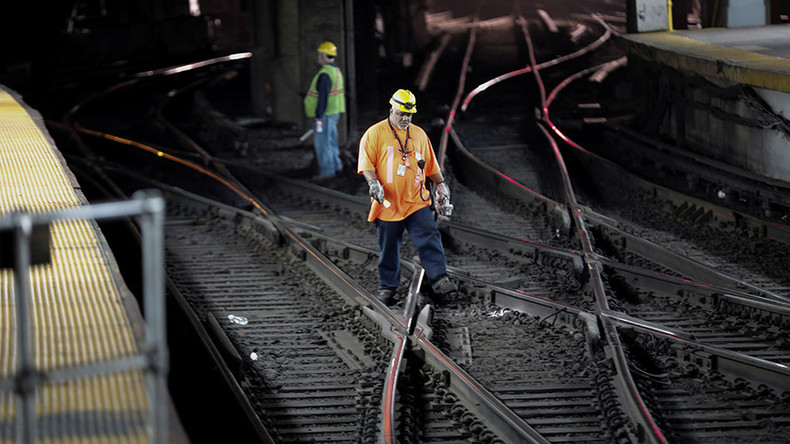 State Police have ordered the evacuation of an entire Pennsylvania town and surrounding areas after dozens of train cars carrying explosive materials derailed and set off at least one fire in the garage of a house.
At least 32 cars of a CSX freight train went off the rails around 5:00am in Hyndman on Wednesday, a CSX spokesman told the Associated Press.
Two cars, one transporting liquid petroleum gas and the other carrying molten sulfur, leaked and caught fire, spokesman Rob Doolittle said. One of those cars crashed into a garage, igniting the fire.
Security camera footage of the derailment has been released.
State Police are urging the town of less than 900 people to evacuate, WTAJ reported. A 1-mile radius is also under evacuation orders, a Bedford County 911 coordinator told the AP.
By late afternoon, the train cars were still burning, keeping investigators at bay, including federal agents with the National Transportation Safety Board, CBS News reported.
Governor Tom Wolf (D) arrived at a command post in Bedford County, according to WTAJ.
"Federal, state and local officials are working diligently to ensure that residents in the affected area are evacuated to safety and planning for possible additional impacts to the area," the governor reportedly said. "These first responders deserve all of our thanks for their swift work to respond to this ongoing incident."
A base of operations has been set up in Cumberland, Maryland, less than 15 miles away from Hyndman, WTAJ reported.
State Senator Wayne Langerholc, Jr. (R-35) said in a statement that three train cars carrying asphalt exploded and that a "3-mile no flight radius" was established in addition to all roads into Hyndman being closed.
Hyndman is about 110 miles southeast of Pittsburgh.
The train was traveling from Chicago to Selkirk, New York, according to the AP.