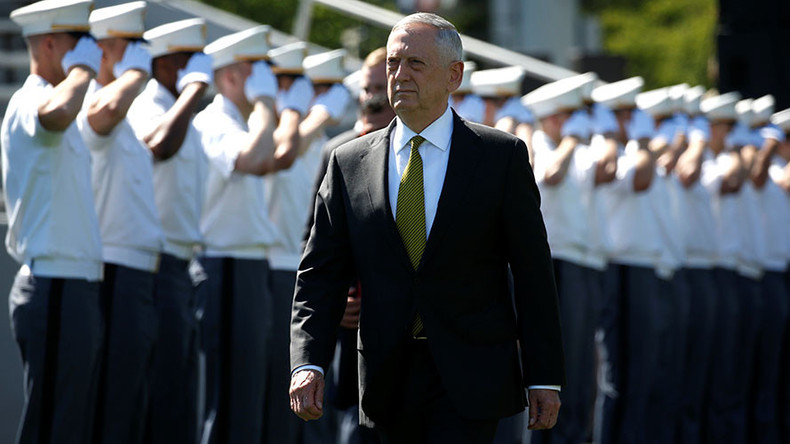 US Secretary of Defense James Mattis © Mike Segar
Reuters
Civilian casualties inevitable amid US tactics of 'ISIS annihilation' – Mattis
Civilian casualties in the war against terrorism is a "fact of life," US Defense Secretary James Mattis has said, insisting the US are the "good guys" doing everything "humanly possible" to annihilate ISIS with minimal collateral damage.
The US's highest military official made the comments during a CBS 'Face the Nation' program, where he spoke about "accelerating the tempo" of the anti-terrorist campaign and using "annihilation tactics" against Islamic State (IS, formerly ISIS/ISIL).
"We have already shifted from attrition tactics, where we shove them from one position to another in Iraq and Syria, to annihilation tactics where we surround them. Our intention is that the foreign fighters do not survive the fight to return home," Mattis outlined.
"What about civilian casualties as a result of this faster tempo?" program host, John Dickerson asked.
"Civilian casualties are a fact of life in this sort of situation," Mattis replied. He however insisted that the US military tries to "avoid civilian casualties at all costs," doing "everything humanly possible consistent with military necessity."
Earlier this week, the Pentagon released the results of its probe into the deadly March 17 airstrike in which over 100 civilians were killed.
The report stated that air support was called in against two snipers firing at Iraqi forces from a rooftop. The US, however, shifted the blame for the massacre on IS terrorists, claiming that the airstrike caused a secondary explosion of their munition stockpiles which led to a collapse of the building.
"The American people and the American military will never get used to civilian casualties. And we will – we will fight against that every way we can possibly bring our intelligence and our tactics to bear," Mattis told CBS, while commenting on the March incident.
Mattis then reiterated the US military findings about the "secondary explosions" and blamed IS terrorists holding civilians hostage in the crossfire.
"We are the good guys," he added. "We're not the perfect guys, but we are the good guys. And so we're doing what we can."
While holding local residents hostage and using them as human shields in Mosul is indeed a brutal, yet common tactic of Jihadist militants, several international human rights groups have also noted that the Iraqi forces themselves repeatedly told Mosul civilians to stay at homes in order to be "safer."
"They did not try to flee as the battle got underway because they received repeated instructions from the Iraqi authorities to remain in their homes," a recent Amnesty International report said, citing survivors of the airstrikes which killed civilians.
"Evidence gathered on the ground in East Mosul points to an alarming pattern of US-led coalition airstrikes which have destroyed whole houses with entire families inside," Amnesty International official Donatella Rovera said.
While the official civilian death toll of the US-led campaign aimed at "annihilating" IS in both Iraq and Syria amounts to 352, not counting the victims of March 17 airstrike, independent observers say actual figures are several times higher.
Airwars, a UK-based charity-funded NGO which conducts its own detailed reviews of strike reports, gives a minimum estimated figure of 3,681 civilians killed in the US-led coalition's air campaign. The organization further notes that civilian deaths have been spiking to their highest levels ever in recent months, corresponding with the intensified operation to recapture the western part of Mosul.