First woman to run Boston Marathon does it again 50 years later (VIDEO)
Published time: 18 Apr, 2017 02:04
Edited time: 18 Apr, 2017 08:21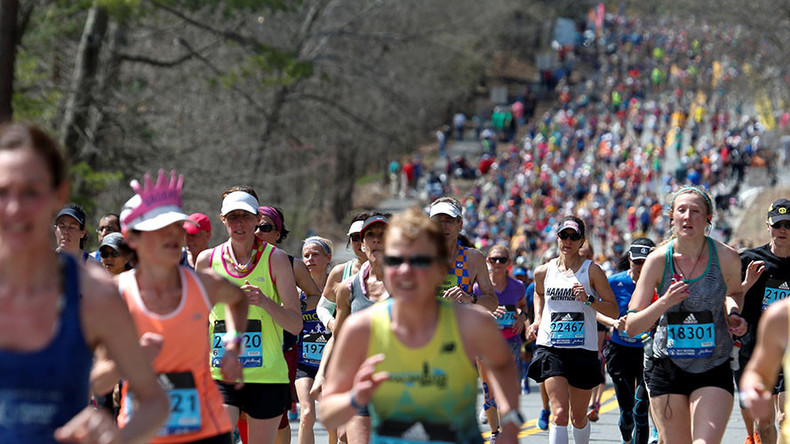 The first woman to ever compete in the Boston Marathon crossed the finish line again a half-century after since she was nearly thrown out by an official. Kathrine Switzer was among many inspirational runners at the 2017 race.
On Monday, Kathrine Switzer ran her first marathon since 2011 and her first time running the Boston Marathon since 1976, when women were officially allowed to compete in the race.
Switzer, however, first ran the Boston Marathon in 1967, when women were not allowed to compete. A Syracuse University journalism student, she entered the race under her initials, K.V. Switzer. She claims that there were not any official rules written that said only men could enter the race.
Jock Semple, a director of the Boston Marathon at the time, was photographed attempting to rip Switzer's bib number and throw her out of the race. In her memoir, Switzer recalls Semple screaming as he reached for her bib number, "Get the hell out of my race and give me those numbers!"
This year, Switzer ran the marathon wearing the same bib number from 50 years ago. After her initial run, Switzer's number became the symbol for numerous running clubs designed to support women around the world, named 261 Fearless.
After the race this year, Switzer's number was retired in her honor.
"My goal is to reach women in places right now where they're not allowed to leave the house alone, drive a car or get an education," Switzer said last week, according to WBZ. "If running can give them a sense of strength, where they are no longer victims and vulnerable, that's what I hope it can do."
Switzer finished the race in 4:30:50, just 10 minutes off her 1967 time.
This year, 13,698 women signed up for the marathon, amounting to 45 percent of the total entries according to the Boston Athletic Association.
The winner of the 121st Boston Marathon was 24-year-old Geoffrey Kirui from Kenya who finished the race in 2:09:37. Kirui was able to pull away from three-time US Olympian Galen Rupp within the last two miles of the race, running the 22nd mile in 4:39 and the 23rd mile in 4:46.
Fellow Kenyan Edna Kiplagat, 38, won the women's race, crossing the finish line at 2:21:52 in her Boston debut.
Two new records were set in the wheelchair races, with Marcel Hug winning his third straight Boston Marathon race with a new world best time of 1:18:03. Manuela Schar won the women's race in 1:28:17, breaking the previous record by more than five minutes.
Every year the Boston Marathon is full of inspirational runners, and this year was no exception.
Jose Luis Sanchez, a Texas Marine who lost his left leg after stepping on an IED in Afghanistan in 2011, carried an American flag through the race. The flag was signed by members of his patrol unit while he recovered from his injuries in the hospital.
Sanchez said that he had kept the flag boxed away, along with written notes from his patrol for three or four years, before he read the words. He decided to take the flag for a run Monday "for others to be inspired, to be motivated."
"Instead of putting it away, I wanted to fly this flag again in their honor," Sanchez told WBZ after the race. "We live for others — I've learned that throughout being angry, and frustrated, and with all that PTSD. I'm channeling it to be positive and to give back to whatever I have taken away from the community."
Sanchez ran the race as part of Team Semper Fi, and raised funds for the Semper Fi Fund, which provides financial assistance to members of all branches of the US Armed Forces.
Ben Beach, 67, was also honored after becoming the first person to finish his 50th consecutive Boston Marathon. Beach first ran in the race back in 1968 when he was 18. Since then, he has crossed the finish line of the Boston Marathon every year.
This year, Beach crossed the line in 5:01:26.
Beach and Switzer were also honored by the Boston Red Sox by having them both throw out the first pitch out at Fenway Park on Sunday.
Thank you to Kathrine Switzer and Ben Beach for throwing out yesterday's ceremonial first pitch! 🏃‍♀️🏃

We're cheering for you both today! pic.twitter.com/lym8wLU3QH

— Boston Red Sox (@RedSox) April 17, 2017
Dick Hoyt, who has pushed his son, Rick, in a wheelchair in every Boston Marathon since 1980, was replaced by Bryan Lyons, allowing Rick to continue his tradition.
The Boston Athletic Association says that 61 of the runners who entered the race were visually impaired, including Stephanie Zundel, a 22-year-old blind woman who finished the race in just over five hours.