Lansing, Mich. rescinds sanctuary city status after only 10 days
Published time: 13 Apr, 2017 22:00
Edited time: 14 Apr, 2017 16:28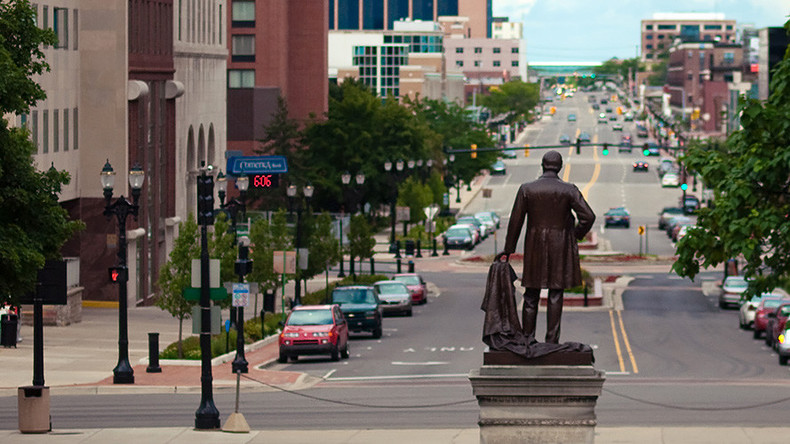 Michigan's state capital of Lansing has bounced from being a "welcoming city" to a "sanctuary city" and back again, all in the span of 10 days. Council members changed their minds due to the threat of losing federal funds and opposition from businesses.
Lansing Mayor Virg Bernero designated the state capital as a "welcoming city" in an executive order on April 3, creating written standards for the Lansing Police Department when interacting with immigrants.
The officers will not ask people they encounter or arrest about their immigration status, but will "continue to work in good faith with our federal law enforcement partners to apprehend criminals, especially violent felons, regardless of their immigration status," Bernero said, adding that police "will not be a part of any effort to sweep Lansing for undocumented individuals or families."
Later that day, the city council declared Lansing a "sanctuary city" with a 6-0 vote, making it the first such jurisdiction in Michigan. However, the resolution did not include a definition. Traditionally, sanctuary jurisdictions limit or prohibit cooperation between local law enforcement and the federal government on undocumented immigrants, even after federal immigration enforcement issues a detainer requesting that an immigrant be held.
By Wednesday, however, the city council reversed its decision with a 5-2 vote after warnings from the city attorney, federal lawmakers, business leaders and residents that such a designation could hurt the federal funding aspects of Lansing's budget, thanks to an executive order by President Donald Trump.
"Every single member of the Lansing City Council has shown they are willing to jeopardize millions of dollars in federal resources that the entire community relies on, simply to make a politically charged statement," Representative Mike Bishop (R-Michigan) said in a statement.
"Not only have they completely ignored the input and safety of legal residents and families in Lansing, but they have disregarded every immigrant who has followed the law by coming into our country the legal way," he continued.
The Lansing State Journal and the Detroit News both issued editorials calling for the city to rescind its sanctuary city law, while the Lansing Regional Chamber of Commerce and the Michigan Chamber of Commerce wrote a joint letter to the Lansing City Council, arguing that the now-rescinded sanctuary city designation "placed an unnecessary target on the City of Lansing while jeopardizing millions of dollars in federal funding that impacts the city budget. A budget, that cannot afford to fill a gap this significant."
Five days after entering the White House, Trump signed an executive order that aimed to empower US Immigration and Customs Enforcement (ICE) and other federal agencies to "unapologetically enforce the law, no ifs ands or buts," according to White House press secretary Sean Spicer.
On March 27, Attorney General Jeff Sessions announced action against sanctuary cities, saying that states and local jurisdictions must prove compliance with immigration laws before they can be eligible for $4.1 billion in Department of Justice grants.
The DOJ will also "claw back" grants to jurisdictions that do not comply with the law. Three days later, Seattle sued the federal government, claiming the executive order is unconstitutional,. Other jurisdictions have since joined the suit as plaintiffs.
The city receives about $6.5 million annually from the federal government, the Lansing State Journal reported.
During a special council meeting on Wednesday, residents mostly supported the sanctuary city designation. Of the 74 people who spoke, 49 were in favor of keeping Lansing as such, according to the Lansing State Journal. Most of the council was not re-swayed.
Not all council members changed their minds about the need to designate Lansing as a sanctuary city. Two women, who are both up for reelection this fall, voted against Wednesday's decision to rescind the sanctuary resolution.
"I can walk into a police station and say 'I'm a criminal,' but unless I break the law you can't arrest me," said At-Large Council Member Kathie Dunbar during the hour-long debate before voting no.
The council generally agreed that the mayor's executive order supersedes their decision.
"I don't care if we're a sanctuary city or not," 1st Ward Council Member Jody Washington said. "That's Mayor Bernero's call."