Tennessee weighs proposal to re-bury President Polk for 4th time
Published time: 27 Mar, 2017 21:25
Edited time: 28 Mar, 2017 11:00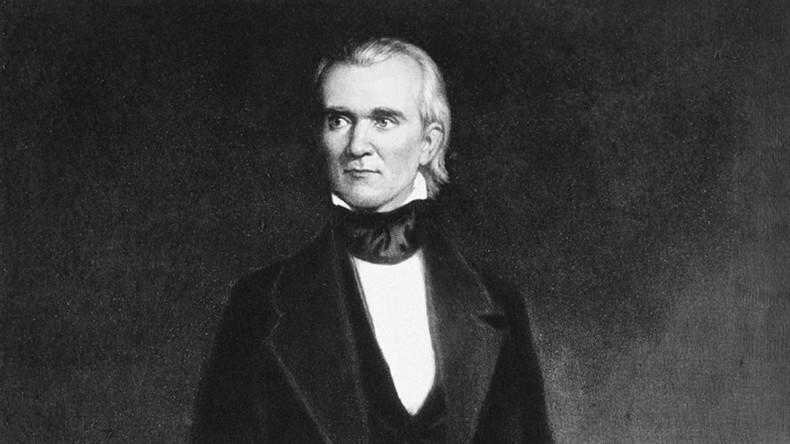 In life, James K. Polk helped establish the borders of the continental US by threatening war over Oregon and fighting one in Mexico. He has not found peace in death, however, with some Tennessee lawmakers now wanting to rebury him for the fourth time.
Polk, who died of cholera in 1849, currently rests on the grounds of the state capitol in Nashville. State Senator Joey Hensley, a Republican, has proposed a resolution to exhume the late president and his wife Sarah and rebury them at his childhood home, now the James K. Polk Home and Museum, in Columbia.
The museum's curator, Thomas Price, also backs the idea, telling CBS News that Polk spent a lot of time in Columbia and that visitors always ask why he was not buried there.
Distant relatives of the late president, as well as the Tennessee state historian, are vocally opposed, however.
"I oppose any effort to move President Polk's grave and monument from Capitol Hill," Tennessee State Historian Carroll Van West wrote on Facebook.
The Polks had no children of their own. A man who says he is their first cousin six generations removed sent a letter of objection to the proposal.
"These are the bodies of real people who deserve dignity in their eternal repose. I would strongly object to any of my relatives being so treated. My cousin and his wife should be allowed to rest in peace," Bill Mason wrote, according to the Nashville Scene.
Teresa Elam, who says she is a seventh-generation great-niece of the 11th president, called the proposal "mortifying."
"I got so upset about it because they're going to take these bodies of these fine, wonderful people and bring them down to Columbia and put them on display to make money," Elam told CBS News.
James Knox Polk is the only president who served as Speaker of the House of Representatives. He emerged as the "dark horse" nominee of the Democratic Party at the 1844 convention, campaigning on a "Manifest Destiny" platform of annexing Texas and Oregon.
He threatened Britain with war over Oregon, demanding the entire territory up to north of the 54th parallel ("Fifty four-forty or fight!" was a slogan in the day), but settled on extending the boundary between the US and what would become Canada along the 49th parallel all the way to the Pacific Ocean, excluding Vancouver Island.
In the south, Polk annexed Texas, which had been de facto independent since 1836. When Mexico objected, Polk sent in the troops. After a crushing defeat, Mexico signed the 1848 Treaty of Guadalupe Hidalgo, ceding land that would eventually become the US states of Arizona, California, New Mexico, Nevada, Texas and Utah, as well as parts of Colorado, Oklahoma, and Wyoming.
True to his promise to serve only one presidential term, Polk left office in March 1849 and returned to Tennessee. He died of cholera three months later, and was buried in what is today Nashville City Cemetery because of a law requiring swift burial for people who died of infectious diseases.
Polk's will requested he be buried at home, so in 1850 he was exhumed and reburied in the yard of his Nashville mansion. When his widow died in 1891, he was exhumed again so the couple could be reunited in the mausoleum designed by William Strickland on the grounds of the Tennessee Capitol.
Hensley, who proposed the move to Columbia, says he had never visited the tomb in his 14 years in the state Senate. His colleague Jeff Yarbro, a Democrat, argues the state should defer to the wishes of the Polks' relatives, who arranged for the burial at the Capitol.
"If a few years from now there's a crew with shovels in the front yard of the Capitol, it's going to be a national news story, and there's going to be a lot of appropriate scrutiny on how this process got initiated," Yarbro told CBS News.
"The Polks have rested in peace on Capitol Hill for almost 125 years — it is most appropriate that they continue to do so," Van West, the state historian, told the Nashville Scene.