Florida governor removes state attorney from cop killer case for anti-death penalty stance
Published time: 17 Mar, 2017 03:48
Edited time: 19 Mar, 2018 11:57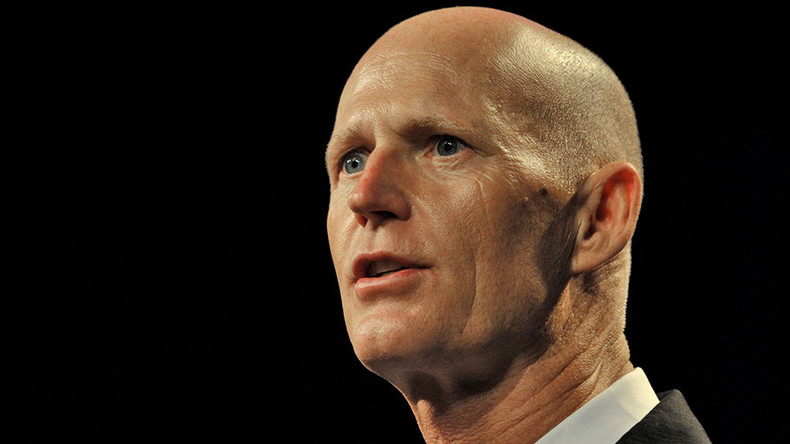 A Florida state attorney who refused to recuse herself from the case of an accused cop killer has been removed by Governor Rick Scott for not pursuing the death penalty.
In an executive order issued Thursday, Governor Scott (R) announced that he has removed newly elected Orange County State Attorney Aramis Ayala from the case after she declared she would not recommend capital punishment during a press conference that morning.
Markeith Lloyd, 41, currently faces charges for killing his pregnant ex-girlfriend Sade Dixon and Orlando Police Lieutenant Debra Clayton in January.
READ MORE: https://www.rt.com/usa/374123-suspected-orlando-cop-killer-arrested/
Ayala's decision also infuriated Orlando police Chief John Mina, who said, "The heinous crimes that he committed in our community are the very reason we have the death penalty as an option under law."
Deputy Chief Robert Anzueto said that Ayala's decision "has law enforcement nationwide questioning her actions," and said members of the Orlando Police Department are in "total disagreement" with her.
"The decision for someone to live or die in a case like this should be in the hands of a jury, and not for one person to decide," he said.
Loyd is scheduled to stand trial on May 1 in the Dixon case, and on June 19 for the Clayton killing.
Ayala called her state's capital punishment laws unjust, citing research that the death penalty doesn't increase safety for law enforcement officers or deter violent crimes.
"I have given this a lot of thought, and it's become clear that pursuing death-penalty cases is not the best interest of victims' families or justice," she said according to WFTV.
In a statement released on Thursday, Scott said that he disagrees with Ayala's decision, and asked her to recuse herself from the case.
"She has made it abundantly clear that she will not fight for justice for Lt. Debra Clayton and our law enforcement officers who put their lives on the line every day," Scott said.
When Ayala refused to recuse herself from the case, Scott appointed State Attorney Brad King to replace her.
Ayala conceded to the order, saying, "my office will follow that order and fully cooperate to ensure the successful prosecution of Markeith Loyd," according to WKMG.