High winds in Michigan knock out power to 1mn customers
Published time: 9 Mar, 2017 20:35
Edited time: 10 Mar, 2017 11:01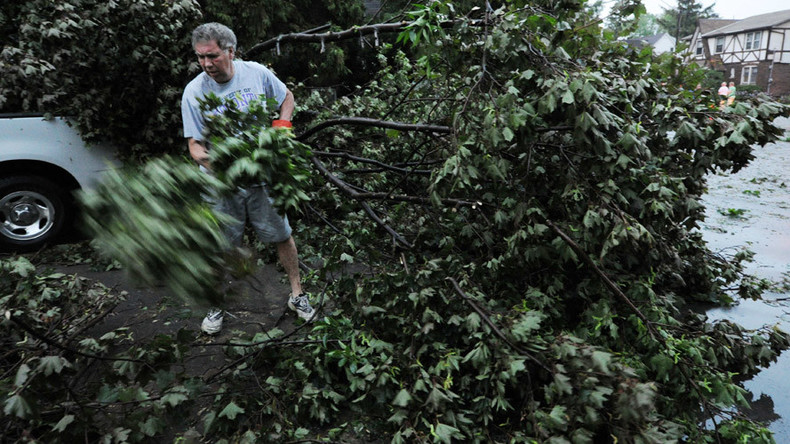 Wind gusts of more than 60 miles per hour downed thousands power lines across Michigan, leaving 10 percent of its residents without power. Many schools were closed and reports were coming in of damage to numerous properties.
Crews are working to restore power after high winds hit the state on Wednesday and knocked out electrical service in Michigan and several Great Lake states.
"Near hurricane force sustained winds pounded our state for over 10 hours. This is the largest weather event in DTE's 100-year history," DTE Energy said during a press conference on Thursday. DTE said 4,000 lines were downed, and they had more than who are working to restore power.
DTE said because of the unusual warm weather, as well as significant rainfall, the ground is very soft and saturated and coupled with the high winds caused many trees to uproot falling on poles and downing power lines causing widespread outages.
Detroit-based DTE Energy Co said 700,000 of its customers lost power in southwest Michigan and more than 670,000 were without service early Thursday. While Consumers Energy Co (CMS_pb.N), another Michigan utility company, said more than 300,000 of its customers were without power too.
The company said the recovery will take days, and 90 percent will have power by Sunday, according to Detroit Free Press.
Strong winds fanned a blaze that killed five people in a Detroit apartment building and pushed a plane carrying members of the University of Michigan basketball team off a runway during takeoff southwest of Detroit.
Michigan Governor Rick Snyder activated the state's Emergency Operations Center to monitor and share information about the storm damage and power outages across the state.
"As Michiganders are struggling with storm damage and power outages from some of the extreme winds that are blowing through the state, our first priority is the safety and security of residents," Snyder said Wednesday in a statement. "Utility companies have been spending much of the afternoon just trying to get a handle on how many lines are down and how best to restore power as quickly as possible."
Gov. Snyder tweeted it was never safe to refuel a generator while it was running.
Michigan State Police issued cautions to residents over non-working traffic lights, and over downed power lines and standing water.