Several injured, 150 homes damaged in record-setting central Texas storms (VIDEOS, PHOTOS)
Published time: 20 Feb, 2017 19:27
Edited time: 21 Feb, 2017 09:34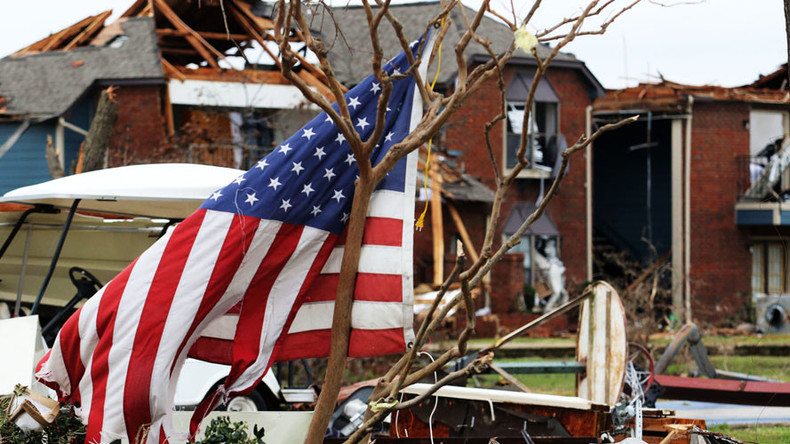 Overnight storms, including two tornadoes, in central Texas damaged more than 150 homes and injured several people in San Antonio as nearly 50,000 customers were without power at one point. Record rainfalls were recorded in San Antonio.
Battered power lines have left some 44,000 people without electricity, according to CPS Energy. Lightning also sparked a fire at Woodridge Elementary School, the San Antonio Fire Department said, according to the San Antonio Current.
The first tornado, an EF-1 with 105 mile per hour (mph) winds and a 4.5-mile path, cut through the north side of the city, while the second, and EF-0 tornado, hit 70mph with a path length of 1.6 miles, NWS confirmed Monday morning. The EF wind-speed rating scale goes from 0 (65-85mph) to 5 (200+mph).
The city received 1.51 inches of rain on Sunday, a record for February 19, the San Antonio Express News reported. The severe weather damaged more than 150 homes, according to AP.
Flooding remains a concern in the area, as dozens of San Antonio streets remain closed as of mid-day on Monday. Texas, especially in the centralized areas of the state, often leads the nation in yearly deaths related to flash flooding, NWS said.
Lucy Duncan, a homeowner in the region, told USA Today that stormy conditions ripped the roof from her home.
"We were acting on instinct," Duncan said. "The reality is setting in now like, 'Oh my goodness I can't believe that happened,' but in the moment we were just trying to survive."
At one point late Sunday, about 46,000 customers were without power in the San Antonio area, USA Today reported.
Severe thunderstorms continue to move east, according to forecasts.