'Insane Clown President' journalist won't take US intel at their word on 'Russian hacks' (VIDEO)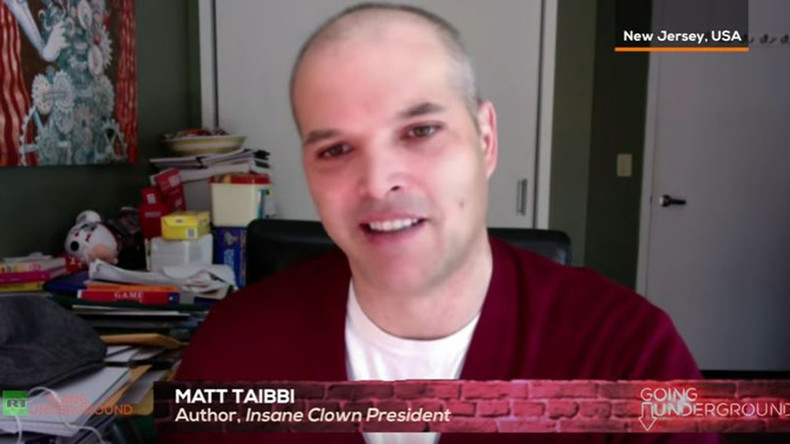 The US mainstream media has allowed itself to be baited by President Donald Trump into a questionable role where it resembles an extension of the Democratic Party, according to journalist and author Matt Taibbi.
Rolling Stone writer Taibbi this month released a bestselling book on the rollicking ride that was last year's US presidential election, from the rise of the 'alt-right' to the ultimately fruitless Hillary Clinton White House bid.
His Rolling Stone dispatches bound within his book, 'Insane Clown President', are meant to convey the "circus" that was US democracy at play in 2016. However, Taibbi's interview on RT's 'Going Underground' suggests that the circus has only just begun.
"It's funny, the people in America have never been so obsessed with politics and Donald Trump, in a strange way, in a very anti-intellectual way, has kind of energized the country to think more about politics," he told RT presenter Afshin Rattansi.
"Trump is one of the first politicians that I've ever seen who effectively made the press into a character in the electoral story.
READ MORE: Trump signs executive order to block new government regulations

"There's always been a lot of resentment in this country – well in the last three or four decades there's been a growing amount of resentment towards the news media and Trump was really the first politician to crystalize that resentment to his advantage."
Manchurian candidate
Speaking about hacking accusations levelled against the Russian government, Taibbi said a narrative that Trump was some sort of Manchurian candidate for Vladimir Putin worried him as a journalist.
"People are running with that second narrative without a whole lot to base it on and that makes me nervous as a reporter. I'm willing to believe it if it's true, but what I'm not willing to do is just repeat it because the intelligence services say that they do," he said.
Trump vs Media
On the topic of media outlets calling out Trump lies, Taibbi suggested many journalists had been baited by the new president into an attack role, rather than one that is impartial, adding that in recent times there has almost been an "antiseptic" treatment of news in the US.
"When we should be enraged about something we sometimes give it a headline that turns the temperature down too much. Sometimes it's a comic scene and we report it without humor and sometimes when it's a blatant lie we use language that fudges it a little," he said.
"On the other hand, I think Trump has really baited the 'mainstream news media' into playing this openly adversarial role and I'm not sure that's exactly the place the press really ought to be."
Those working within the media should not be on anybody's team, he added. "What's happening now is that everybody is so anti-Trump that we are being perceived as an extension of the Democratic Party and I don't think that's a good thing."
Clayton top job
Pending Senate approval, US attorney Walter 'Jay' Clayton could soon be head of the US Securities and Exchange Commission.
Providing a background to the law partner pick by Trump, Taibbi described Clayton as having a history of working with Wall Street.
"Clayton is a long time insider who has been involved in a lot of high profile financial crisis episodes, including the pseudo bailout of Goldman Sachs by the private financier Warren Buffet," Taibbi explained.
"He represented Goldman Sachs in that affair as well. Donald Trump ran against Goldman Sachs during his campaign, he promised he wouldn't be under their thumb and the first thing he did after he got elected is he put five people from Goldman Sachs in his White House.
"Clayton is representative of that. With Donald Trump, I think you at least know where you stand. With Barack Obama there was a great difficulty, especially in his early years of getting progressive America to understand that there was a difference between the image and the reality of President Obama."
You can share this story on social media: