Only in America: Cowboy lassoes calf from hood of cop car (VIDEO)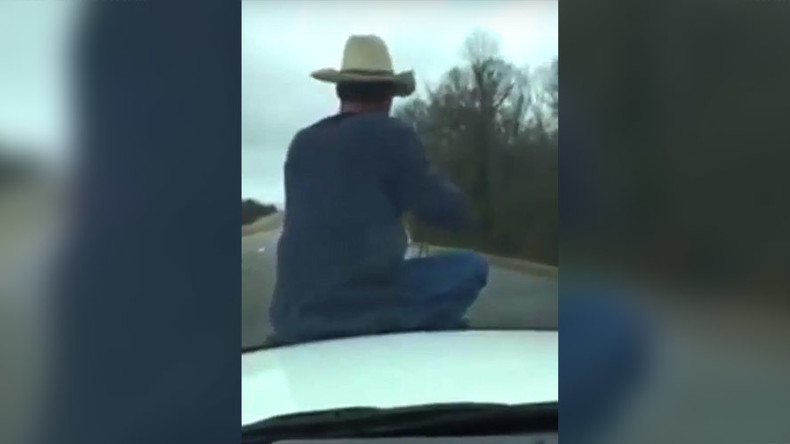 Video of a man expertly lassoing a calf from the hood of a cop car as it races down a highway in Tennessee has racked up more than 2.5 million views online in two days.
Sheriff Monte Belew from Henry County Sheriff's Office posted footage of the bizarre incident on Facebook, saying: "Hats off to my ole buddy David Bevill!! We had a calf running down Hwy 79 and he came & helped us. Bevill rode on the front of my car & roped the calf!!"
The baby calf, who was later identified as 'Patrick' by its owner, was running across the busy highway causing traffic delays and endangering motorists
Speaking to local TV station NewsChannel 5, Sheriff Belew explained that in rural Henry County, getting a report of a calf on the highway was "not a strange call to receive at all."
"Our motto is that I say 'there's no call we won't take,' you just have to adapt and improvise to the situation at hand."
Local farmer David Bevill just happened upon the scene when the sheriff enlisted him into help.
"He hollers at me and asks 'do you got a rope?'" Bevill said to Channel 5. They quickly came up with the plan that Bevill would ride on the front of the cop car and try to lasso the loose calf.
"Hi folks, I've got David Bevill on the front of my control car and we got a calf found in the middle of the highway," Sheriff Belew breathlessly explains in the viral video.
"We've been going down the middle of the highway and we're going to try and rope him right here."
After less than a minute Bevill manages to successfully snare Patrick. "We just roped him!" Belew shouts. "We got him! We just stopped him! Tie him to the front of my car!"
"It was probably the best loop I've ever thrown in my life! It surprised us both!" Bevill said afterwards.
The clip has racked up nearly 3 million views on Facebook but Bevill is taking it all in his stride. "I'm not a Facebooker but my wife has told me it's gone crazy," he said.
You can share this story on social media: