Freight train obliterates truck carrying family's entire belongings (VIDEO, PHOTOS)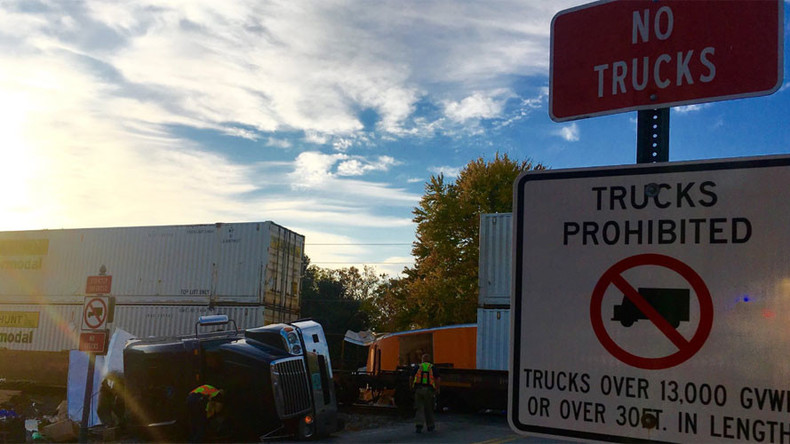 In scenes reminiscent of a Hollywood blockbuster, a truck driver narrowly avoided death and serious injury by jumping from his vehicle just moments before it was struck by a speeding freight train.
The shocking impact took place in the town of Norcross, Georgia when driver Eli Mercado's truck accidentally became stuck on railway tracks while driving across them on Tuesday.
Mercado told WSB-TV that he followed his GPS to a crossing in the town where trucks weren't permitted and didn't realize his mistake until it was too late.
The truck became wedged – and moments later the screech of an approaching train's horn could be heard.
Mercado tried to save the truck as his wife – who was traveling with him but jumped out as the train approached – and police officers screamed at him to get out.
"As soon as I jumped out of the truck, maybe four seconds later, the impact with the trailer, with the train," he said.
The couple were in the process of moving another family's belongings to a new house at the time of the collision.
A bystander captured dramatic footage of the explosive crash as the speeding train burst through the truck, sending an explosion of the family's belongings all over the road.
The debris took hours to clean up and Norcross police were still advising people avoid the area the following morning.
A local restaurant gave Mercado and his wife a free meal after the crash. Describing his emotions after the narrow escape he told WSB-TV: "The only thing I could do was ball up and cry like a little baby, you know, because that's the way I pay my bills. That's the way I take care of my kids, my family".