Kinetic lighting & street phone chargers: Footfall to power Las Vegas (VIDEO)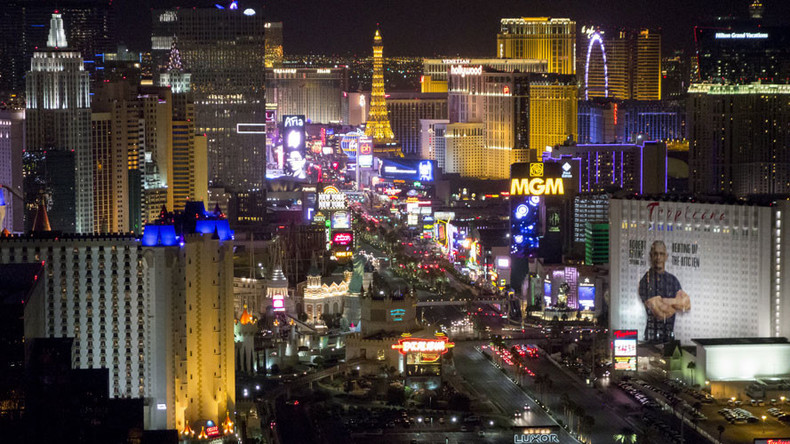 Excess is normally encouraged under the dazzling lights of Las Vegas. However, the desert city's energy drain could soon be reined in through pedestrian power under a new, greener alternative.
New York eco start-up EnGoPlanet has signed a deal with the city of Las Vegas to illuminate a downtown plaza with new solar street lamps powered by kinetic energy from passing footfall.
As one can imagine, the city's mega casinos and roaring tourist trade require a lot of electricity. In 2007, a Forbes report forecasted the gambling and tourist hub would be running through 8,000 megawatts a day within eight years.
For comparison, the US Nuclear Regulatory Commission say one megawatt has the potential to power between 400 and 900 homes for a year.
Despite increased interest from Vegas businesses in green solutions to their supply, almost 90 percent of Nevada's energy is still brought in from outside the state. A US Energy Information Administration profile of Nevada's power consumption reveals that its use of electricity "exceeds in-state generation" with only a "small but increasing share" of electricity coming from solar sources.
Step forward EnGoPlanet, the company trialing the "first ever installation" of a street lamp powered by both solar and kinetic means. CCTV surveillance, USB hook-ups, charging bays and air quality monitors can also be incorporated into the futuristic design.
By day the sun's rays are collected by solar cells on top of the lights, while pressure from pedestrian steps on specially-designed kinetic pads in the pavement below boost the battery.
"Currently, streetlights in the world release more than 100 million tons of CO2 per year. Our generation has the moral responsibility to transform our energy system," said Petar Mirovic, EnGoPlanet CEO.
Mirovic believes his company's product could play a role in that transformation by reducing CO2 consumption and lowering costs.
"If you look at traditional street light poles, you will see that they are useless," he said. "They simply hold the lighting. With our solution, we've changed that by incorporating useful features into the pole and transforming it into a free service spot where people can rest, charge their portable devices, or connect to WiFI."
Four of the streetlights and a series of kinetic tiles have been placed in the arts district of Boulder Plaza, report the Las Vegas Sun.
Las Vegas Mayor Carolyn Goodman said of the idea: "We want to provide the highest service levels while also looking to the future and ensuring that we are sustainable."