Modoc County deputy is California's 4th on-duty police death in 2 weeks
Published time: 20 Oct, 2016 17:20
Edited time: 21 Oct, 2016 13:53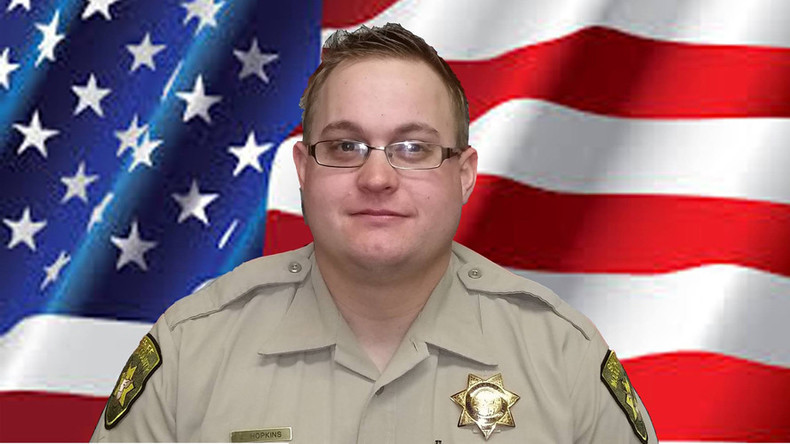 Four police officers in California have been killed in the line of duty over the past two weeks, with authorities saying that two died in a planned ambush. A sheriff's deputy in the state's rural northeast was the latest casualty.
Modoc County Sheriff's Deputy Jack Hopkins was responding to a call reporting a disturbance on Wednesday morning when he was fatally shot in a rural area about 10 miles (16km) south of Alturas, California.
The 31-year-old deputy joined the sheriff's department in 2015, and served the community of fewer than 10,000 residents near the tri-state boundary with Nevada and Oregon.
"He was probably the nicest man," the Alturas Municipal airport posted on Facebook. "When he pulled you over for a headlight, or something you did, he always was courteous and had a smile on his face. He didn't have a mean bone in his body, just a great guy. He is missed by all of us."
The airport also changed its profile picture to a black-and-white US flag with a thin blue line running through the middle, a common expression of solidarity with police.
Three more law enforcement officers in California have died in the line of duty over the past two weeks, in the more populous southern part of the state.
On October 6, Sergeant Steve Owen of the Los Angeles County Sheriff's Department was fatally shot while responding to a burglary report in Lancaster, just north of Los Angeles. Trenton Trevon Lovell, 27, was charged with Owen's murder and the attempted murder of another deputy, as well as residential robbery, false imprisonment, and being a felon in possession of a firearm, according to the Los Angeles Times.
Two days later, two Palm Springs Police officers were ambushed and killed in what local officials called a planned attack. John Hernandez Felix, 26, set up a trap and fatally shot officers Lesley Zerebny, 27, and Jose Vega, 63, according to Riverside County District Attorney Mike Hestrin.