Get your rifle before it's too late! Las Vegas gun store advertises 'Pre-Hillary Sale'
Published time: 18 Oct, 2016 15:00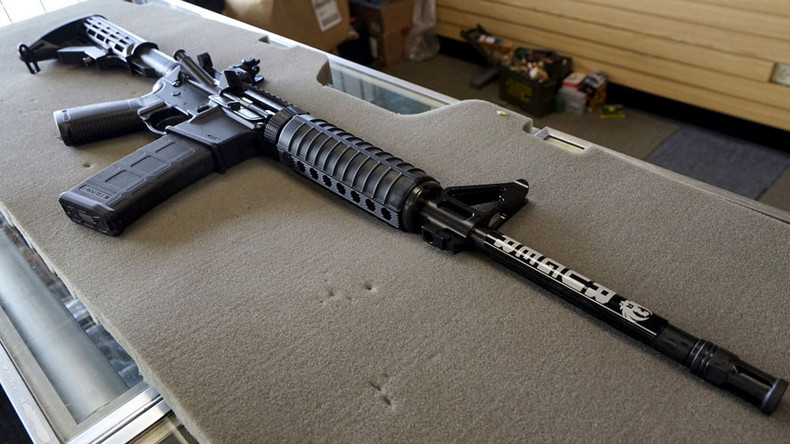 Guns in America could soon cost a whole lot more if "Crooked Hillary" secures power – at least that's according to one Las Vegas gun store, which has organized a "Pre-Hillary sale."
The store, Westside Armory, ran the ad in the Las Vegas Review Journal over the weekend, with people tweeting the image of the $699 Smith & Wesson M&P Sport II semiautomatic tactical rifle.
"Pre-Hillary sale. Don't wait! Prices will skyrocket after Crooked Hillary gets in." Vegas armory ad in Adelson News. Wow! And...surrender? pic.twitter.com/c24FWw99L0

— Jon Ralston (@RalstonReports) October 16, 2016
The Second Amendment has been causing gaping rifts in America as Clinton moves in to press for tougher background checks – but the right wing appears to harbor serious doubts she'll stop there if she secures the presidency in November.
There's even bickering in the media over what Clinton meant or plans to do, amid a pervasive sense that the Democrats will emerge victorious after all. The latest thing to fan the flames was a hidden-camera video of Clinton donor Amy Rao speaking at a fundraiser event, saying that the Democratic candidate wants to go way beyond the toughened background checks she's been promising.
"Hillary wants to shut it down. She wants to shut it down," said Rao. "If we can get guns away from everyone in this country, she'll close the loopholes, get rid of assault weapons. She'll get rid of being able to buy, you know, unlimited bullets. She's going to make all that stop."
Gun sales, meanwhile, show no sign of slowing down.
Westside Armory had its record year in 2015, with $190,000 in sales in December – the most in a single month since opening in 2014, WashPost reports, citing Bloomberg's analysis that the sales are in line with current national trends. Overall statistics show gun sales in the US have surged since the Democrats came to power with Barack Obama.