'Go f*** yourself,' Clinton spokesman tells Trump over Iraq War soldier claim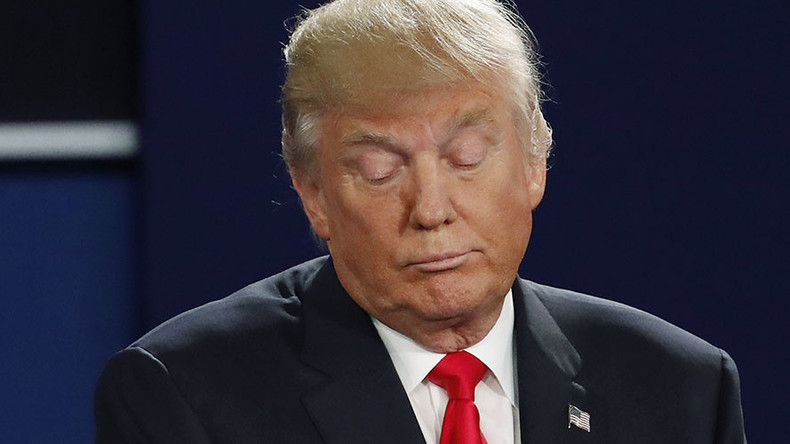 Hillary Clinton's foreign policy spokesman unleashed a social media outburst at Donald Trump on Sunday, after the Republican nominee said US solider Humayun Khan would still be alive because he wouldn't have approved the war in Iraq.
"Hey, @realDonald Trump – regarding your claims that Captain Khan would be alive if you were presient. go f*** youself," tweeted Clinton foreign policy spokesman Jesse Lehrich on Sunday.
Republican presidential candidate Trump has repeatedly said he did not support the war in Iraq, but fact-checkers have found that he did initially support the war and then changed his mind. Trump has repeatedly said Democratic candidate Hillary Clinton voted for the war in Iraq when she served as senator for New York.
US Army Captain Humayun Khan was killed by a car bomb in 2004 while guarding the gates of his base in Iraq. Khan was posthumously awarded a Bronze Star and a Purple Heart.
The parents of Kahn appeared at the Democratic National Convention in Philadelphia this July and won praise from the audience for their backlash against Trump, with Khizr Khan saying Trump had "sacrificed nothing and no one."
Lehrich later apologized for "the clearly inappropriate nature and language of a personal tweet."


The presidential campaign has seen a series of public apologizes after candidates and their spokespeople made a series of controversial statements.
In September, Hillary Clinton apologized for calling half of Trump supporters 'deplorables'. Clinton said she was "grossly generalistic" when she took aim at his supporters in New York, characterizing many as racist, sexist and homophobic.


"That's never a good idea," she said of generalizing when describing Trump voters. "I regret saying 'half.' That was wrong."
She went on, though, to call many of Trump's actions "deplorable."
In July, under fire for disparaging Trump as a member of the Supreme Court, Justice Ruth Bader Ginsburg said, "on reflection, my recent remarks ... were ill-advised and I regret making them."
Ginsburg had criticized Trump, calling him a faker and inconsistent, and said she didn't want to think about what his election would mean for the country or the court.
In April, Bill Clinton lectured Black Lives Matter protesters about his crime bill, angering some African Americans.

"I almost want to apologize," he said the next morning.
But he did not. He just kept talking.