Asian refugees sue right-wing California sheriff alleging discrimination
Published time: 28 Sep, 2016 01:18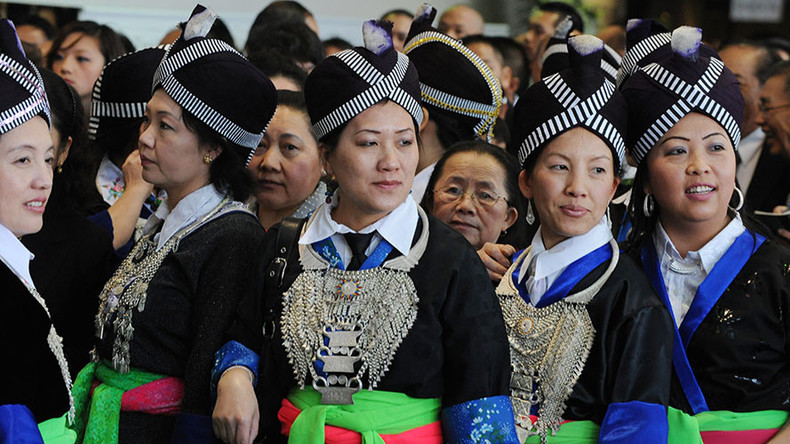 A right-wing California sheriff is under scrutiny: A local community of Asian refugees and Vietnam War survivors have sued him for alleged discrimination and voter intimidation. Some fear 'consequences' if they participate in the November 8 presidential election.
"Defendants created and continue to maintain a climate of fear, intimidation, and racially motivated disenfranchisement and persecution, under the color of law" a complaint filed in California's Eastern District court said. It says, as a result, many were deprived of their right to vote during the June primary and "fear voting in the November, 8 general election."
This class action lawsuit, filed on behalf of at least 10 members of the Hmong community in California's Siskiyou County, targets Sheriff Jon Lopey, along with an elections clerk and a California secretary of state employee.
Large numbers of Hmong people settled in the community back in 2015 after buying plots of land there. However, new dwellers were not welcome in Siskiyou. Defendants say that first, local officials racially discriminated against them by imposing ordinances aimed at regulating the cultivation of medicinal marijuana, which had been legal in the area.
However, as some of the new Hmong residents tried to grow plants on their property, Siskiyou County tightened their screws even further.
"The 2015 Ordinance gave Sheriff Lopey unfettered power to target Hmong homeowners in enforcing the ordinance," the defendant's attorney Kyndra Miller wrote in the lawsuit. "Sheriff Lopey launched a very public campaign to rid the county of these so-called 'newcomers' – code for people of Hmong descent."
Lopey, who is also an active member of the right-wing Oath Keepers group and Sagebrush movement, has also repeatedly called the Hmong people "gang members,""criminals" and "cartel members."
The persecution of the Hmong minority worsened early in 2016, when Asian refugees, now legal American citizens, attempted to register to vote in Siskiyou County ahead of the June 7 primary election.
This is when Siskiyou County Elections Clerk Colleen Setzer flagged the voter applications as suspicious. Setzer's office received over 1,800 new registrations, which made her suspect "voter fraud."
"We are specifically monitoring reports of alleged voter intimidation among vulnerable minority populations, such as the Hmong community," Rachele Huennekens, a spokeswoman for state attorney general's office, said in June.
Mere months after Setzer notified Lopey, officers started visiting Hmong residents under the guise of investigating voter fraud. They were telling the residents that they could not live on their land without a proper water source and, hence, could not use their property to register to vote. They also threatened the defendants with prosecution in case disobedience.
"I believe some of these Asian Americans were manipulated, perhaps cajoled or coerced into filling out voter registration cards," Lopey told Talking Points Memo in June.
According to some accounts, officers were armed with AR-50 assault rifles, which made residents fearful and brought up memories of the Vietnam War era.
"This experience with the Defendants triggered many traumatic childhood memories for [Jesse] Wang and put him in a state of mental panic," the complaint said.
Another defendant, Wang Chang, was confused and "terrified because he does not speak English."
"He believed that they were going to trying to kill him," Miller wrote.
One of the defendants ended up hiding for 30 minutes when he saw people both in uniform and not, armed with handguns and assault rifles. After that visit, the 58-year-old man was rushed to a local hospital.
These are a few accounts from the lawsuit, in which defendants told the similar stories of their own.
According to the suit, at least 360 Hmong residents tried to vote in the June election, but over 200 of them were not listed on the voter rolls in time, and another 50 gave up out of fear.
Now, the plaintiffs have requested that the jury award damages in the amount of $100,000, as well as punitive and exemplary damages deemed necessary, as well as the awarding of attorneys' fees.
The county has 21 days from September 15 to file a response with the court.
Siskiyou County has a Hmong community of approximately 1,000 people. Overall, California has 101,901, according to the 2015 census, making it the most popular state among Asian refugees, ahead of Minnesota, Wisconsin and North Carolina.
The Hmong people, mostly populating Laos, Thailand and China, came to the US as political refugees, mostly in 1970s following the Vietnam War.