Collapse on the 'Orient Express': Kids' ride tips over at Georgia country fair (VIDEO)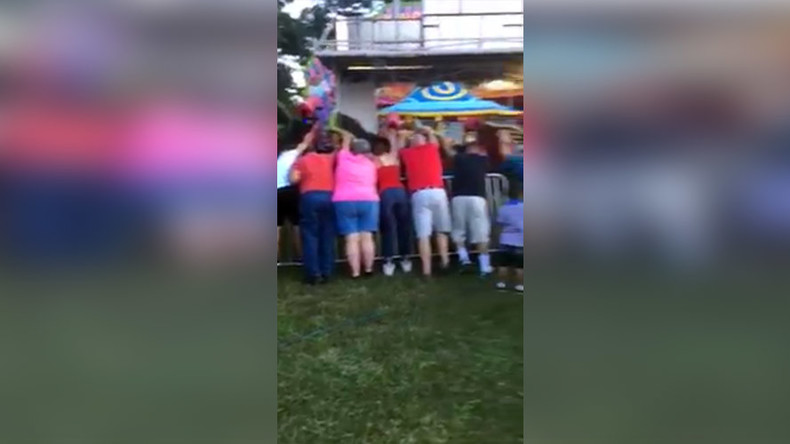 Visitors to a county fair in rural Georgia rushed to hold up a kids' roller-coaster when its supports suddenly collapsed. Seven children were on board, but thanks to the fairgoers' quick reaction, no one was injured.
"This rollercoaster almost fell over with kids on it!" wrote Whitney Castro, who filmed the bystanders holding up the collapsed ride and posted the short video on her Facebook page. "If it wasn't for some quick adults, this would have ended a lot worse."
"I am still shaking. My child was not on it thankfully. Nobody was hurt, a lot of scared little kids. This ride was being balanced and held up by boards," Castro added.
The incident happened Thursday evening, at the Bartow County Fair in Cartersville, Georgia, about 44 miles northeast of downtown Atlanta.
Seven children were on the "Orient Express" ride when it collapsed, according to Glenn Allen, spokesman for the Georgia Office of Insurance and Safety Fire Commissioner.
"Apparently, there was a malfunction with the truck that caused some form of a collapse on the ride," Allen told ABC News. "Exactly what caused that is now under investigation."
The ramshackle ride was dismantled before the fair reopened Friday afternoon, local media reported.