City Hall pulls plug on Pennsylvania dumpster swimming pool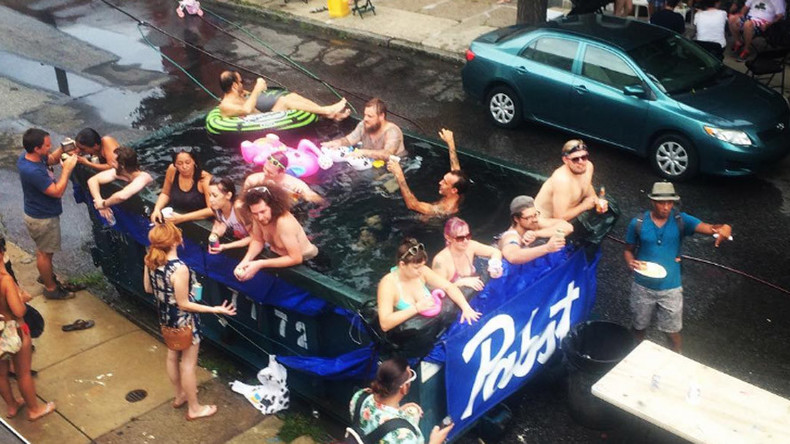 A group of Philly residents gave dumpster diving a whole new meaning by transforming one into a swimming pool for some respite from 90 degree temperatures. But city bureaucrats pulled the plug, stating that they needed the water more.
The innovative idea for the dumpster pool came about when residents of Cedar Street in Philadelphia wanted to throw a block party.
One of organizers called ten dumpster companies before finding one that would let him rent and convert.
"It's sturdy, it's rentable, and I can just give it back," Myers told Billy Penn.
Photos from the dumpster pool show it could easily accommodate a dozen people even with their inflatables.
But city officials weren't having it, especially when they were inundated with press calls. The mayor's office subsequently issued a statement, pulling the plug on the watery fun.
"In view of the City's commitment to public health, safety and basic common sense, we will not issue permits for block party dumpster pools. And while you would think this decision would not require an explanation, three days of press requests have proven otherwise," wrote the mayor's office.
The mayor's office listed three bullet points explaining the danger of filling dumpsters up using fire hydrants. From the risk that it "could reduce the amount available in hydrants for battling fires" to the hydrant water pressure "pushing a small child or even an adult into oncoming traffic" to water pressure sending a "jolt to the main" strong enough to break it.
"So if you would like to have water available should a fire break out in your home, don't illegally tap a hydrant," the statement added.
Warnings such as those may not have been considered by nostalgic types.
The city said it also would not issue any future block party permits to the 2400 block of Cedar, and officials have contacted the dumpster rental company over its failure to obtain the proper closure permits.