'I shouldn't have to use my title to get justice' - NY lawmaker manhandled by police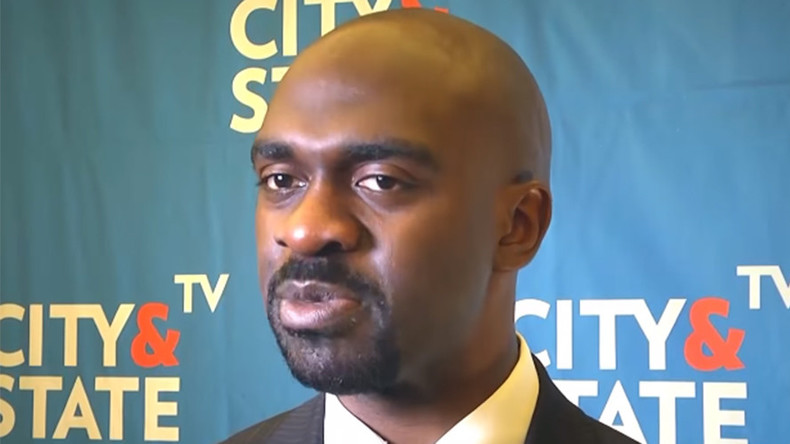 Michael Blake is a New York State assemblyman who represents the neighborhood in which he was born and raised. But this weekend, it was also where he was assaulted by police officers. Police Commissioner Bill Bratton has not offered up any apologies.
Bronx Assemblyman Blake was visiting the Morris Houses on 169th Street and Washington Avenue for a family event on Saturday. However, he noticed a woman in handcuffs while two other people argued with police. He approached the officers to try to mediate the situation, but was grabbed in a bear-hug, lifted off the ground and "slammed" into a gate, the New York Times reported.
"Within seconds I was in a bear hug, and to my left tossed to the gate that is closest to the wall," he said in a press conference.
The 34-year-old Democrat has been representing the South Bronx since 2014. According to his official web page, he was recognized by MSNBC in 2011 as one of the "'Top 10 Black Politicians' on the rise."
However, Police Commissioner Bill Bratton does not recognize that what happened to him may have been excessive use of force.
"There will be no apology forthcoming from me, but we'll see where the investigation goes," Bratton said during a Monday press conference at the Bronx County Courthouse.
He went on to say, "There is no action that has been taken against the officer, nor will there be." Adding, "I have no reason to believe that the officer behaved in a significantly inappropriate manner. We will see what the investigation determines."
The police officer who threw Blake did apologize, the New York Daily News reported. The officer defended himself, claiming that Blake placed his hand on the Lieutenant's shoulder from behind. Blake counters this claim, telling reporters, "We are not aware, nor do we recall, any physical contact happening between me nor the officer at all."
Blake may consider himself lucky, as the interaction ended when two officers recognized him and ordered the other community officer to let him go.
"The only reason this situation did not get worse is because I am a recognizable elected official and fortunately at that moment two other officers recognized who I was," he said. "I was incensed. I shouldn't have to use my title to get justice."
Moreover, the racial issues at play do not sit well with Blake.
"Why was I tossed toward a gate for doing absolutely nothing wrong? No weapon, no threat," he said. "The reality is this, I was a black man, I was seen as a threat."
He has filed an excessive force complaint against the officer.