'You don't know the reality of this country': Hopkins lambasted for BLM 'divide' claims (VIDEO)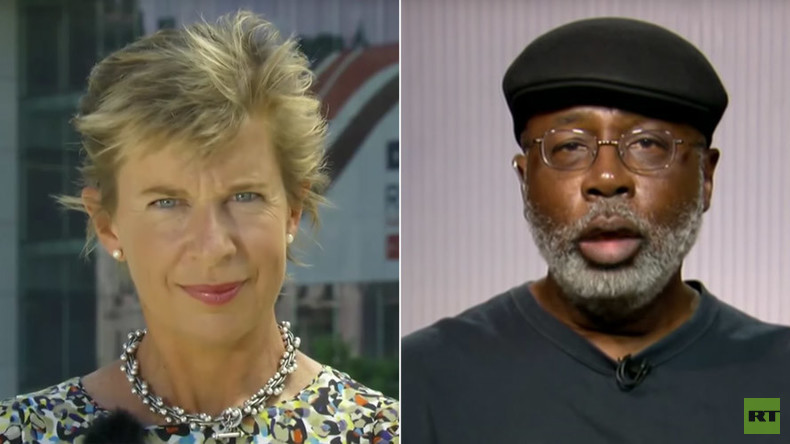 A heated debate between Katie Hopkins and Carl Dix surrounding the Black Lives Matter movement turned into an all-out argument when Hopkins accused the group of creating a hostile divide in America.
Hopkins, a MailOnline columnist, appeared on RT to discuss Trump's nomination and the protests against police brutality that were held during the RNC convention.
READ MORE: #AllLivesDidntMatter: Twitter trend challenges opponents of Black Lives Matter
Hopkins, a British citizen who has vowed to move to the US if Trump becomes President, was debating the issue from the convention in Cleveland, Ohio, with 'Stop Mass Incarceration' network co-founder, Carl Dix.
"Black Lives Matter have created a divide because they are saying: 'Black lives matter more, pick a side, which side are you on?'... they're creating hostility and as a result, in Baton Rouge, cops are being gunned down," said Hopkins to RT's Neil Harvey.
"It is not black lives matter, it is not white lives matter, it is all lives matter," she added.
Dix argued that Hopkins was not fully aware "of the reality here in this country."
"In this system all lives don't matter, it's told us that from the beginning," said Dix. "The lives of black people matter for nothing unless they can be exploited and savagely oppressed to build up the wealth of America."
READ MORE: 'Make America First Again': 5 ways the US leads world you probably won't hear at #RNCinCLE
"People are right to stand up, people need to stand up," Dix added before Hopkins interjected and repeatedly spoke over the activist to tell him to "stop talking and listen".
"No you stop talking, I listened to you, we don't play it that way. There was a time when black people could not talk back to people, that time is over," he responded at the height of the heated exchange.
You can watch the interview in full here: