Where in the world is El Chapo? Rumors of his escape send internet atwitter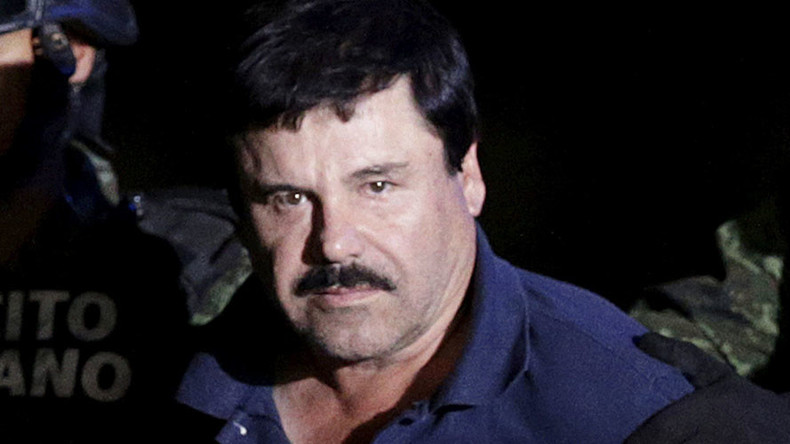 Has the notorious drug kingpin Joaquin 'El Chapo' Guzman escaped from prison a third time? The online gossip mill seems to think so. The theoretically imprisoned head of the Sinaloa cartel is trending on Twitter… and no one knows why.
The reports of El Chapo's escape may be greatly exaggerated. His name started trending Friday morning, and quickly hit more than 250,000 mentions by mid-afternoon.
Even the sports world got in on the action.
Dear El Chapo...help messi escape tax eviction

— Msaks (@PMsaks) July 8, 2016
It appears that the website Information Nigeria published an article about the escape Thursday night, but later updated it to note that it was a hoax.
"This escape plot was even more calculated than his previous escape. It was very well planned. He pretty much just walked out of the prison undetected and have no idea where he is now," the article said, citing an unnamed prison official.
READ MORE: New cell every day, tanks outside: Mexico takes extra measures to prevent 3rd El Chapo escape
"Spoiler alert, although we ran this story earlier, its [sic] proved to a be a hoax. You can keep reading anyway, it makes for good fiction. Did I mention we're sorry," Information Nigeria noted at the top of the updated article.
It's not the first time there's been such an escape hoax.
The last time El Chapo actually escaped was almost exactly a year ago ‒ on July 12, 2015 ‒ via a half-mile long tunnel from the maximum security prison. He was caught and returned to prison in early January. At the end of June, a Mexican judge blocked his extradition to the United States over fears that the drug lord may face the death penalty.
Perhaps the upcoming anniversary of his second escape got everyone excited. Or maybe El Chapo is trending because that's the name of this dog…
Or this baby rhino…