US-led coalition airstrike kills 2 ISIS 'senior military commanders' – Pentagon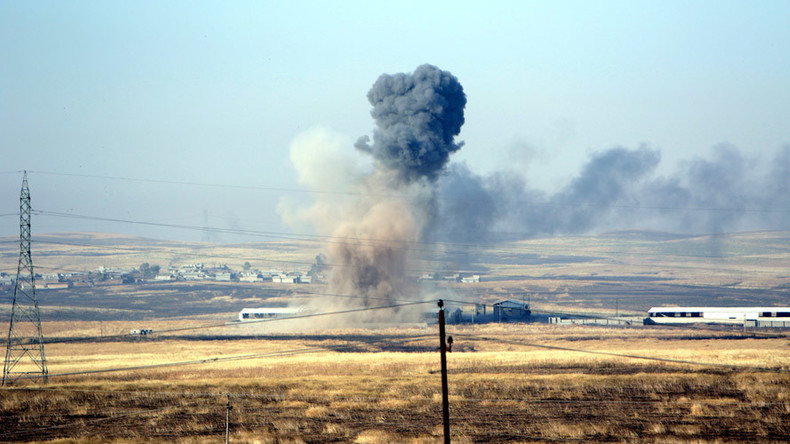 Islamic State's "deputy minister of war" and a military commander were killed in an airstrike in Mosul on June 25, a Pentagon official said Friday.
The strike killed Basim Muhammad Ahmad Sultan al-Bajari, deputy minister of war for Islamic State (IS, formerly ISIL/ISIS), who oversaw the militant groups capture of Mosul in 2014, Pentagon spokesman Peter Cook said in a statement, according to Reuters.
"These deaths are the latest in coalition efforts to systemically eliminate ISIL's cabinet wherever they hide, disrupting their ability to plot external terror attacks and hold onto the territory they use to claim legitimacy," said Pentagon Press Secretary Peter Cook in a released statement on Friday.
The Pentagon added that the deaths of the senior IS men "critically degraded ISIL leadership in Mosul."
The military said Al-Bajari was an experienced terrorist and a former member of al Qaeda, who brought military skills to IS. He was instrumental in IS's capture of Mosul in June 2014. Hatim Talib al-Hamduni was an IS military commander in Mosul and the head of military police for the self-proclaimed Ninawa state.
Coalition forces have been bombing Mosul and Falluja, two cities to the west of Baghdad trying to squeeze ISIS fighters out of there.
Iraqi forces recaptured the last remaining district held by Islamic State militants in the city of Fallujah on June 26. The Iraqi Army's ground operations were backed by US-led coalition air strikes and paramilitary troops, mostly Shi'ite militias. Coalition and counter-terrorism forces have been targeting IS leaders to eliminate them from the battlefield, as part of a "coordinated campaign."
A separate airstrike Sunday, June 26 killed IS's head of finance in Mosul. The death of Hatm Al-Hmdoni was confirmed by the Kurdistan Region's Security Council in a tweet.
The Pentagon press secretary said in recent days that the coalition "has freed Fallujah from IS's grip; launched devastating strikes against IS forces fleeing that city; completed the encirclement of Manbij, a key node in the flow of foreign fighters between Syria and Turkey; and started to clear key terrain south of Mosul of ISIL forces."