'Watching the Hawks' strikes a chord: How politics influences art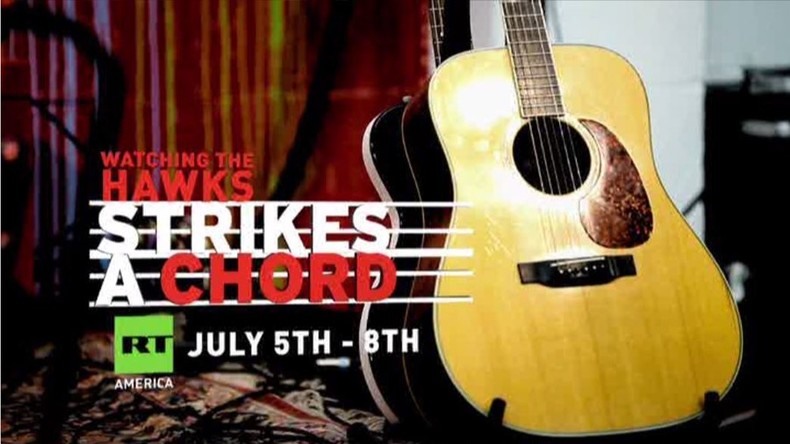 From Woody Guthrie to Bob Dylan and Sonny Bono to Clay Aiken, music and politics have long intersected. In a multi-episode special, RT America's 'Watching the Hawks' seeks to highlight those ties through showcasing four very different musicians.
Over the course of the four-day series, co-hosts Tyrel Ventura and Tabetha Wallace interview musicians, giving an in-depth view on what drives their passion and their sense of responsibility in the politically charged environment of the day.
"Throughout history music has intermingled with politics as a matter of checks and balances. When the mainstream media ignores a problem music takes up the torch of truth," Wallace said. "Music has the ability to do what no government can. It brings people together despite language and borders. It calms fears and opens minds."
The shows take place in Los Angeles, California, and each focuses on a different musician, each representing a different style, genre and feeling: Singer-songwriter and producer David Baerwald, rock and roll acoustic artist Michale Graves, hip hop artist Rob Watson, and blues vocalist Greer Sinclair. The artists are a cross-section of young and old, famous and newly discovered.
"I was always fascinated by how artists react to, you know, whether it be political shenaniganry or major news events, it's always interesting to see how they're affected by these things and how that affects then the music that they create that we listen to and love," Ventura said.
Between singing, writing and producing, Baerwald has worked with "just about everyone in the industry" across a variety of genres, Ventura said. He believes that music is a way to connect people, and encourages musicians to find a way to really reach their audiences.
"Reaching out and making people feel not alone, I mean that is a hugely valuable thing music can do," Baerwald said in a statement. "David Bowie, for example, was so great at making people, you know, who had gender issues or who just felt freaky feel like not only are they not bad but they're special… that I think is really valuable…I recommend to artist embody something…embody courage, embody independence but don't boast about it."
For Graves, who also performed in the punk band Misfits, politics and music go hand-in-hand.
"The rebellious side of punk rock… is very much libertarian in its nature and so it resonates with me," he said.
Graves jumped into the political arena in 2002 when, he says, he "carried the water for the Republican Party" and joined the military.
"I got behind the war," Graves said, "and as we got further into it the truth really started to come out about the bogus wars and what the Patriot Act actually was."
The tagline for Graves' new tour is "The world is on the brink of a disaster," and it very much relates to what is happening in politics today.
"We've come apart so badly in this country and all over the world by the puppet masters, by the elite, by the banksters, by whoever you want to label them as," Graves said.
Hip hop is a way for people without power and influence to make a difference through a powerful narrative, according to Watson, the artist behind the 'Watching the Hawks' theme song.
"Hip hop is contagious because of the stories it tells and the people it tells the stories for are those who have not had their story told," he said.
As a vocalist, Sinclair draws her inspiration from many areas, including the Delta Blues, referencing Robert Johnson and Billie Holiday. Another influence for her is film noir.
"The idea that there's this prevalent sense of doom and despair and heaviness in the world and yet, for the most part, the protagonist are people that are trying to do the right thing and are faced with difficult moral decisions but still want to do, you know, the correct thing," Sinclair said.
For her, music is a way for artists to articulate passion and ideas "that maybe they couldn't say otherwise and moving people so that they understood in a way they couldn't in just straight conversation."
"Like every episode of Watching The Hawks we hope that viewers walk away entertained, challenged, and intrigued enough to always question more," Ventura said.
The Strike a Chord special will air July 5 to July 8 at 6 p.m. ET on RT America.