10% contained: 2 SoCal fires may combine after 5,400 acres burned, hundreds evacuated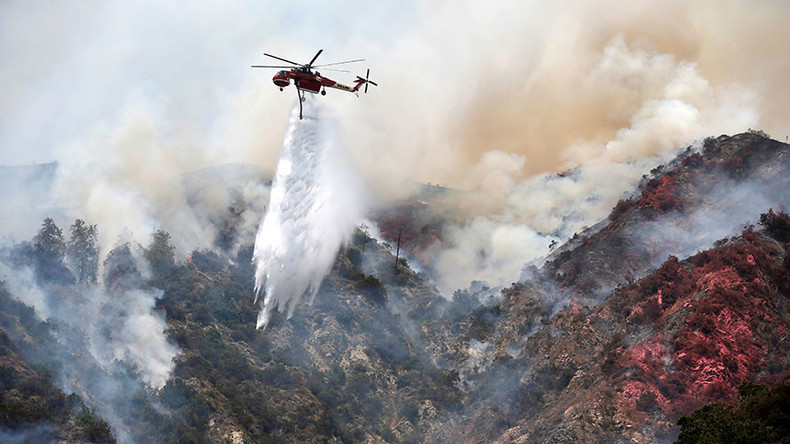 Two fires less than 2 miles apart in Los Angeles County are now known as the San Gabriel Complex Fire. Since Monday, thousands of acres have burned, forcing evacuations of hundreds of homes. Only Wednesday did officials begin to contain the blazes.
Burning in the Angeles National Forest, the fires formerly known as the Fish and Reservoir Fires scorched over 5,400 acres through Monday night and into Tuesday morning. By Wednesday, the inferno still covered at least 4,900 acres, according to fire officials.
READ MORE: Read more: Welcome to the 'Heat dome': Extreme temps intensify fires and public health, forcing evacuations
The Reservoir Fire was the first to break out on Monday after a pickup truck crashed off Highway 39 near Morris Dam north of Azusa, killing the driver, Patch reported. It has burned some 2,400 acres, compared to the more than 3,000 acres incinerated by the Fish Fire.
Late Monday, the Federal Emergency Management Agency (FEMA) recognized California's request for emergency assistance, agreeing to cover 75 percent of the expenses required to battle the worst of the two fires, the Fish Fire. It is unknown how this fire began, but locals reportedly suspect a camping homeless man.
Over 12,000 people have been evacuated from approximately 770 homes in parts of Duarte and Azusa. Nearby homes in Bradbury and Monrovia are awaiting a possible evacuation order, should winds suddenly change direction. Duarte imposed its own local emergency status.
Four years of drought in the Golden State have resulted in plenty of dry brush, which is fueling the fires, Angeles National Forest Fire Chief Robert Garcia told Patch.
A firefighter and a sheriff's deputy were each treated for heat exhaustion on Monday.