Teenage girl dead, 4 people injured in Oakland shooting
Published time: 15 Jun, 2016 08:45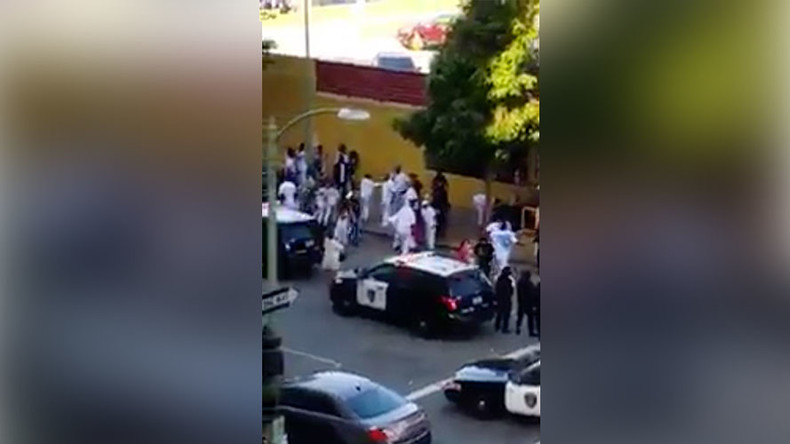 Oakland police have said that a 16-year-old girl was killed after being shot in the neck in the city's downtown, while four people were injured.
The injured victims are in stable condition, security forces added.
Witnesses said that two gunmen on foot opened fire along one city block, according to police officer Carlos Gonzalez, as quoted by Stuff media outlet.
READ MORE: UN rights chief calls for more US gun control in wake of Orlando massacre
The shooting saw people fleeing the scene in search of cover, in shock and horror, the San Francisco Chronicle reported.
People were running "every which way," 39-year-old witness Mason Stone told the paper.
Windows of businesses on the street were blown out in the fire.
Initially, there were reports of six people injured, but police later changed that figure after medical evaluation found out that some of the injuries were not caused by the shooting itself.
Police said that the shooting took place a few blocks away from a vigil in memory of two 15-year-old Oakland boys who drowned in Salinas, California, last year, AP and local media reported.
It remains unclear if the shooting and the vigil are related.
It is the latest in a string of violent incidents engulfing the US over the past few days.
On Sunday, a gunman who pledged alliance to ISIS murdered 49 people and seriously injured 53 others at a gay club in Orlando, in the worst mass killing on US soil since 9/11.
Across the US there were 43 shootings on Sunday, with 18 more deaths and at least five children among the victims, Gun Violence Archive and Vox media outlet reported.