Bernie Sanders visits US-Mexican border, slams Obama's deportation policies (PHOTOS, VIDEO)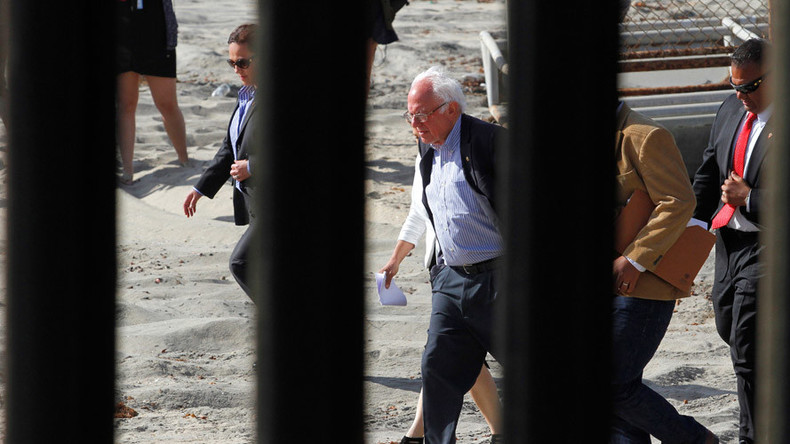 During a visit to the US-Mexican border, Democratic presidential hopeful Bernie Sanders criticized America's current deportation policies, while calling for "a path towards citizenship" for immigrants that entered the US illegally.
Sanders visited Friendship Park, a special border location between the cities of San Diego and Tijuana, on Saturday while en-route to an event in National City in California.
Sanders was accompanied by Christian Ramirez, a human rights advocate, as well as Maria Puga, the widow of Anastasio Hernandez, a Mexican migrant who died during an "altercation" with border police in 2010.
While remaining on the US side, Sanders spoke with people through the fence, including some veterans who had served in the US army, but haven't been allowed back into the US.
Sanders called for "comprehensive immigration reform" to fix what he sees as a "very, very broken immigration system."
"We have 11 million people in the United States who are now undocumented and I believe they deserve a path towards citizenship," he told reporters on the Mexican side of the border.
"I am not in favor of the current deportation policies. I believe that what immigration reform means is uniting families, not dividing families," he added.
The Vermont Senator explained that he "hoped that the Republicans in Congress" could see that there is a problem and would work with Democrats to carry out reforms.
"If not and if I am elected president of the United States, I will use the executive powers that the president has to do that the best that I can," Sanders added.
Friendship Park was first opened in 1971 as a place for families divided by the border to meet, although this ability has been progressively restricted over the years. Currently most families are only able to meet for a few hours on weekends.