Sanders campaigns on Pine Ridge reservation, but Clinton to skip it for Texas fundraisers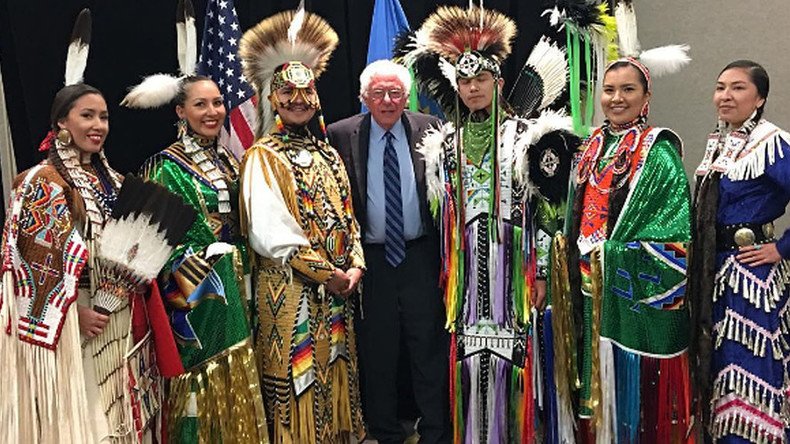 Bernie Sanders said the US owes a "debt of gratitude that can never be repaid" to Native Americans during a rally on the Pine Ridge Reservation in South Dakota Thursday.
The Democratic presidential candidate, who's made the war on poverty a centerpiece of his campaign, met with tribal and community members from three of the poorest counties in the country.
"Poverty is much too high. There are not enough decent jobs in the area. The health care system is inadequate. We need to fundamentally change the relationship between the US government and the Native American community," Sanders told the crowd in an area where 49 percent live below the poverty line.
More than 28 percent of Native Americans nationwide are considered poor, well above the national average of 15 percent, according to the US census.
"There is a lot of pain in the community," Sanders said to potential voters. "In America today, we have a massive level of income and wealth inequality. We are living in a country where some people have unbelievable wealth but a lot of other people are living in dire poverty."
Health care and education are also major concerns among the community, where the infant mortality rate is five times higher than the national average and 70 percent of students drop out of high-school.
The single-payer health care system pledged by Sanders will no doubt appeal to the area, along with his plans for tuition-free public colleges and universities.
Pine Ridge was the site of a number of tragedies caused by European-Americans.
More than 150 men, women, and children were killed by members of the US Seventh Cavalry Regiment during the 1890 Wounded Knee Massacre. In 1973, American Indian Movement and tribal members held a 71-day standoff with the FBI, as featured in this Rage Against The Machine song.
Famed political prisoner Leonard Peltier was arrested for the 1975 "Incident at Oglala" on the reservation when two FBI agents were killed - and remains locked up four decades later because Bill Clinton refused to pardon him when leaving the White House in 2001.
READ MORE: American Indian activist Leonard Peltier marks 40 years in prison
The former president will visit South Dakota next week to campaign instead of his wife Hillary Clinton, who will be raising money with rich donors in Dallas and Austin, Texas.
HILL CLINTON A LIAR JUST LIKE HER HUSBAND AS HE WAS ANOTHER ONE WHO WAS GOING TO FREE LEONARD PELTIER LIED

— crazyhorse (@crazyhorse2126) May 2, 2016
The former Secretary of State beat Barack Obama in the state's primary in 2008 by 55 to 45 percent.
This year's vote will take place on June 7, the same day as the all-important California primary.
John Yellow Bird Steele, president of the Oglala Sioux Tribe, told Native News that "Bernie lives up to his word. Indian Country would be better off if he lives up to his words."
After visiting Pine Ridge, Sanders made stops in Rapid City and Sioux Falls, where he was met by thousands of voters who still believe he has a chance to beat Clinton for the Democratic party nomination.
You can share this story on social media: