No butts about it: California passing law upping smoking age to 21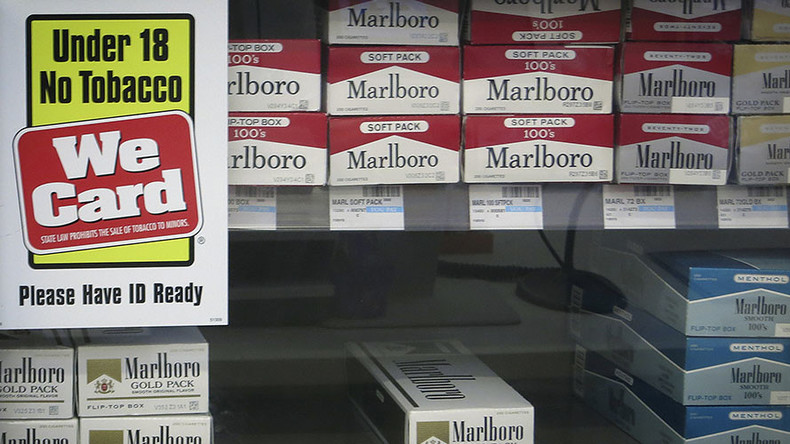 Nicotine-addicted teens in California should smoke 'em if they got 'em because Governor Jerry Brown approved a measure raising the legal age to buy cigarettes from 18 to 21. The measure was signed on Wednesday and includes other restrictions.
Starting June 9th, anyone born before that date in 1995 will not be able to purchase tobacco for dipping, smoking, vaping or chewing. Although adding three years to the smoking age may seem arbitrary to some, the Institute of Medicine reported that 90 percent of daily smokers began before they were 19 years old.
California is the second US state to adopt a higher age requirement for cigarettes and similar products. Last month, Hawaii had the honor of being the first to do so. Since then, jurisdictions in New York, Chicago, San Francisco and elsewhere have adopted the higher age, according to ABC News.
State Senator Ed Hernandez (D-West Covina) authored the bill, and told ABC News that he expects it to sweep the nation, saying: "It's going to send a shockwave across the country."
"The governor's signature on Tobacco 21 is a signal that California presents a united front against Big Tobacco," Hernandez said in a statement."Together, we stand to disrupt the chain of adolescent addiction."
While anti-tobacco advocates are celebrating the decision, one group is very unhappy with the pack of bills Brown signed. The bill reclassifies vapor products as tobacco, a measure that vape advocates are not pleased with.
"California took a step backwards today by reclassifying vapor products as tobacco," the Smoke-Free Alternatives Trade Association, which represents e-cigarette manufacturers and other vapor products, said in a statement, adding: "Stigmatizing vapor products, which contain no tobacco, and treating them the same as combustible tobacco while actively seeking to economically penalize smokers attempting to switch is counterproductive to public health."
While 90 percent of tobacco users begin before they turn 21, 80 percent first try tobacco before they turn 18, according to the National Survey on Drug Use and Health. For the minors who may use older siblings, friends, neighbors or even strangers to get illicit tobacco products, that time-honored practice could be coming to an end as well. Buying tobacco – or vapor – products could result in a misdemeanor charge for any adults involved.
Despite the backlash from vape rights activists – or activapes, as no one calls them – there could be a net gain from the legislation. The Institute of Medicine also reported that increasing the age for purchasing tobacco to 21 could result in "223,000 fewer premature deaths, 50,000 fewer deaths from lung cancer and 4.2 million fewer years of life lost for those born between 2000 and 2019."