Sanders belatedly apologizes for surrogate's 'corporate Democratic whores' comment
Published time: 14 Apr, 2016 19:19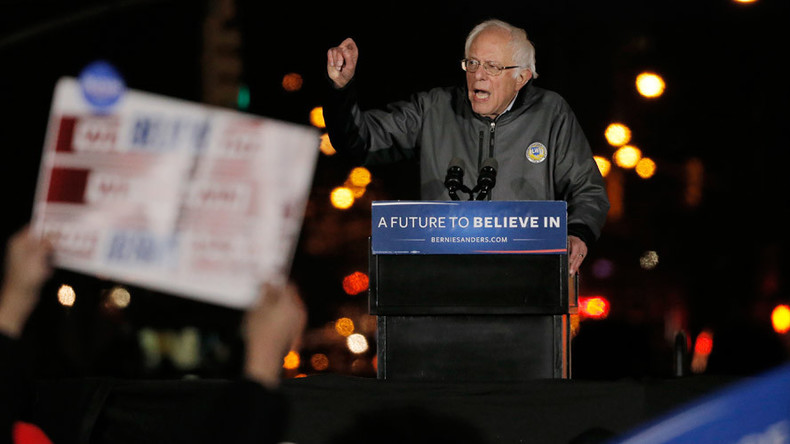 Presidential hopeful Bernie Sanders has apologized after coming under fire when one of his political surrogates spoke about "Democratic whores" at a rally. But as his rival went on the attack, some were quick to remind that those in glass houses.
Dr. Paul Song, an oncologist and a health care activist who ‒ like Sanders ‒ supports the idea of a single-payer plan, took to the stage to introduce Sanders to the more than 27,000 people at a campaign rally in New York City's Washington Square Park on Wednesday night, more than an hour before the candidate himself showed up.
"Medicare-for-all will never happen if we continue to elect corporate Democratic whores who are beholden to big pharma and the private insurance industry instead of us," Song said.
The firestorm condemning the comment began almost immediately, with critics decrying it as sexist.
While some have criticized Sanders for not disavowing Song's remarks immediately, he did apologize for his surrogate's comment Thursday morning.
Song also apologized for his remark in a tweet.
Although Song later said he was referring to Congress, the remark immediately preceding the "Democratic whores" comment was: "Now Secretary Clinton has said that Medicare for all will never happen. Well, I agree with Secretary Clinton that Medicare for all will never happen if we have a president who never aspires for something greater than the status quo."
The comment set off a battle on social media between Clinton and Sanders supporters with the hashtag #DemocraticWhores.
The pro-Sanders side pointed to Clinton's corporate cronyism, Wall Street funding and flip-flopping on progressive issues.
The Clinton camp called the Vermont senator and those defending him sexist for Song's use of a demeaning term for women.
Yet some pointed out the hypocrisy of the Clinton supporters, pointing to faux pas made by her surrogates, including former Secretary of State Madeleine Albright and feminist activist Gloria Steinem, for bashing women who opted to support Sanders over the female candidate. They also brought up a recent skit that Clinton and New York City Mayor Bill de Blasio participated in that made a joke about "colored people time," which critics called racist.
Some people couldn't understand why Song's comments were the focus of the issue, seeing it as a mix of politics as usual and a way to ignore the large number of attendees at the Sanders rally.
Even conservatives joined the fray, more as a way to poke fun at Democrats than to add anything of substance to the discourse.
As is usual on Twitter, the #DemocraticWhores hashtag spawned mockery as well.
Of course, what could be most interesting out of the whole brouhaha is the reception Song got at home Wednesday night. His wife, journalist Lisa Ling, is a Clinton supporter, CBS News reported. In 2009, President Bill Clinton helped rescue her sister Laura, another journalist, from a North Korean jail.