'Soldier mom' who posed in ghostly photoshoot charged with murder of 2yo daughter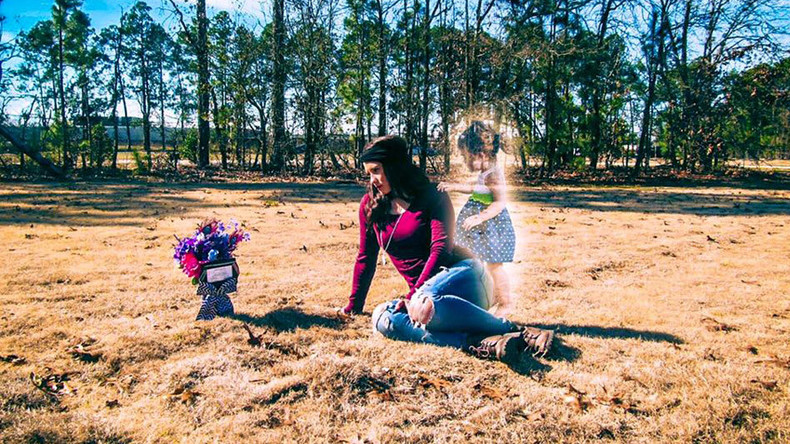 Two US soldiers have been arrested for murdering the female suspect's two-year-old daughter, after creating a ghostly photoshoot and a crowdfunding campaign for the funeral.
Jeanie Ditty, an active-duty soldier who is stationed at North Carolina's Fort Bragg, is in jail along with her boyfriend Zachary Keefer, both charged with first degree murder and negligent child abuse.
Keefer served as an Airborne Army Special Forces Senior Medical Sergeant with top secret security clearance for 13 years, according to his LinkedIn profile.
Ditty's daughter, Macy Grace, was rushed to the hospital in December covered in bruises and unconscious. She died two days later.
Her death was later ruled a homicide by the medical examiner and the Fayetteville Police Department say the bruises were consistent with child abuse.
A month after Macy Grace's death, Ditty posted photos created by Sunny Jo, who specializes in 'photoshopped' images with deceased family members.
The creepy collection features Ditty posing next to Macy Grace's grave and walking with her ghost-like image.
Jo said he felt sorry for the mother and donated his time.
"I find out that she wanted these photos just to lie to the public, to cover up what she did so she can look like the grieving mother," Jo said.
Keefer started a GoFundMe page to raise money for Macy Grace's funeral, even though friends and family say money was available.
The page said the toddler died from choking on her vomit in her sleep. The "campaign" raised $6,000 before it was taken down "by Keefer" and it is not known if GoFundMe has returned the money to those who donated, according to the Fayetteville Observer.
"This is a truly innocent victim and we are going to do everything we can to get justice for this child," District Attorney Billy West said after the two appeared in court.
Ditty is a soldier in the 525th Military Intelligence Brigade and Keefer's service includes work in Human Intelligence.
An army spokesperson told the Washington Post that Ditty received an Army Service Ribbon, National Defense Service Medal, and the Global War on Terrorism Service Medal while serving as a "chemical, biological, radiological, and nuclear specialist."
Further details of their service are being withheld by the military because of the "ongoing police investigation."
Macy Grace's biological father, Kevin Ditty, is a sergeant in the 108th Air Defense Artillery Brigade.
His mother Tina Goodwin, speaking to a reporter on his behalf, said the Dittys separated around Kevin's second deployment to the United Arab Emirates in January 2015, while "family and friends said even though the two had separated, Kevin Ditty did his best to keep in touch with Macy Grace via Skype."
While no news reports have linked the incident with post-traumatic stress disorder (PTSD) and most headlines fail to mention the suspects are soldiers, US military families have been struggling with an increase in domestic violence since the invasion of Iraq and Afghanistan after 9/11.
Civilian mothers were found to be three times more likely to mistreat their child when spouses are away from home.
During periods of non-deployment, soldier fathers were responsible for 54 percent of abuse incidents and civilian mothers were responsible for 35 percent, according to a 2007 study by University of North Carolina researchers.
One in five veterans who served in Iraq and Afghanistan experience PTSD in any given year, says the Department of Veteran Affairs.
Former Republican vice presidential candidate Sarah Palin, while campaigning for Donald Trump earlier this year, blamed PTSD for her own son's domestic violence arrest, which did not go down well with veterans.
The next court appearance for Ditty and Keefer is April 14.