'State who?' Pentagon increasingly dominating US foreign aid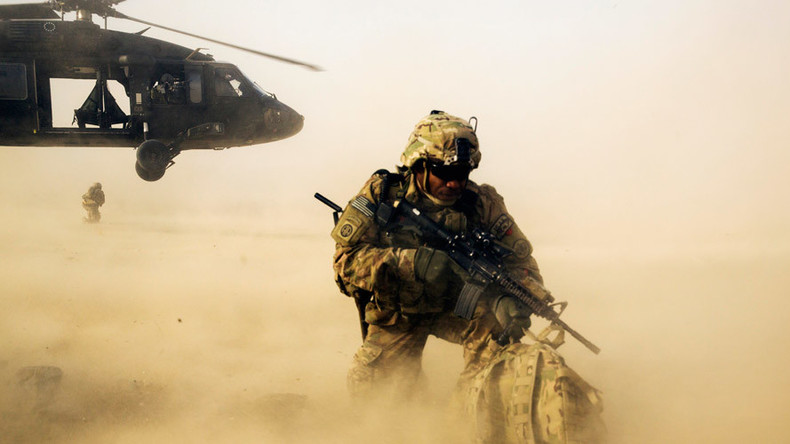 The result of Washington's "newest arms race" between the Pentagon and the Department of State is a "militarizing of foreign policy" and subsequent arming of suspect states and human rights abusers, according to a new report.
The Defense Department is amassing ever more control over foreign aid – and by extension, US foreign policy – despite Foggy Bottom's formal role as America's policy-implementation arm overseas, supporters of the State Department told Politico.
The Pentagon has consistently sent aid, allocated by Congress or approved by the Obama administration, to nations like Burkina Faso and Tajikistan that have been accused of torture, suppression of political dissent or activism, excessive force against detainees, and other humanitarian infractions, officials said.
"This trend of giving more and more authority and taking them away from State is not a great thing," said Ilan Goldenberg, head of Middle East Security Program at the Center for a New American Security. "It is largely a function that in Congress DoD gets a lot more attention and has a lot more leverage."
Pentagon supporters say the State Department process for allocating resources is too slow and out of line with America's need to strengthen military partners, especially in the Middle East. The DOD's current authority to provide an increasing amount of aid stems in part from a "steady accumulation of very specific authorities that have largely gone over to the Department of Defense" amid major ground wars in Iraq and Afghanistan, and more recent military actions against jihadist group Islamic State in Iraq and Syria, said Troy Thomas, special assistant to the president for national security and former special assistant to the chairman of the Joint Chiefs of Staff.
The Pentagon's budget for overseas military aid tripled from 2008 to 2015, while the State Department's budget increased by 23 percent in that time, according to Politico.
In 2015, more than $11 billion of Pentagon money was spent to arm and train security forces around the globe. Now, Congress – which has prioritized Defense Department budgets over support for the State Department – is crafting defense policy legislation to entrust the DOD with more power over foreign aid.
Former Assistant Secretary of State Andrew Shapiro told Politico that Pentagon officials called for "some of the most aggressive proposals possible" at the beginning of President Barack Obama's first term. "They all said: 'You've got to do something. We can't assist our partners quickly enough,'" said Shapiro.
Foggy Bottom, meanwhile, has legal authority to be involved in aid decisions and – in some cases – it can veto programs of which it does not approve. Furthermore, the Leahy amendment is a US law that bars the Defense or State Departments from providing assistance to any state or potential recipient that violates human rights. Additionally, the Arms Export Control Act has similar prohibitions for selling or transferring arms to suspect recipients.
Yet State has been increasingly shut out of foreign-aid review processes, current and former department official told Politico. For example, Foggy Bottom recently discovered a Pentagon counter-narcotics plan for nations in Central Asia that State had already assessed as unworthy of military aid.
A recent analysis by the Congressional Research Service found that policy actions of late "have combined to slowly muddle the clear legal separation between State and DoD roles."
"The State Department is supposed to manage foreign policy and and making sure these efforts are in line with our interests," said Goldenberg. "Giving military support to any of our partners is fundamentally a political act and a foreign policy action."
In line with Congressional support for militarism, popular opinion seems to favor the Pentagon's increasing share of the budget. A recent poll found that a rising number of Americans believe the US spends too little on the Pentagon's operations despite a military budget greater than the next seven countries' budgets combined.
US military spending rose sharply following the terror attacks of September 11, 2001, and continued to rise to around $700 billion (in inflation-adjusted US dollars) until about 2010, according to the Stockholm International Peace Research Institute (SIPRI), which tracks global military expenditures – including spending on overseas operations, which the US budget separates from military funding.
In 2014, even though spending went down slightly, the US still spent $610 billion on its military, SIPRI reported, representing about one-third of global military spending. The next seven nations on the list – China, Russia, Saudi Arabia, France, the United Kingdom, India, and Germany – spent $601 billion combined in 2014.
"US military spending continues to run at historically high levels and is around the same level in real terms as at its previous peak in the late 1980s," SIPRI said last April.