Sanders sues to allow some 17-year-olds vote in Ohio primary
Published time: 10 Mar, 2016 05:19
Edited time: 11 Mar, 2016 23:11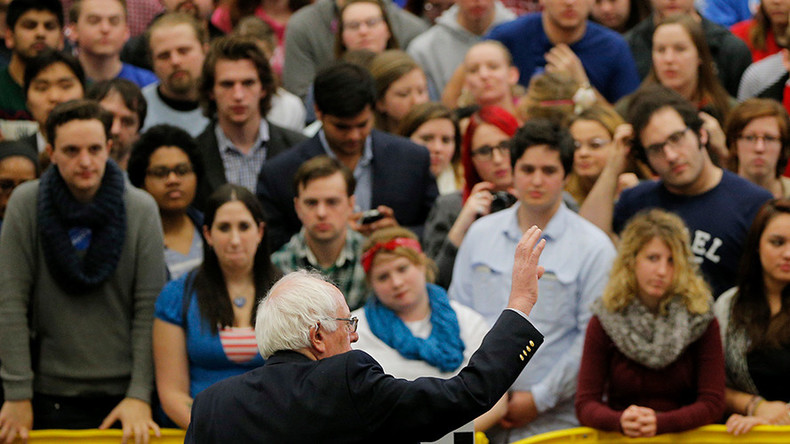 Bernie Sanders is counting on the youth vote to help him win in Ohio, so much so that he's fighting for their right to go to the polls. The Democratic presidential hopeful has sued to allow some currently ineligible teens to vote in next week's primary.
UPDATE: The Sanders campaign has won, at least temporarily, its case demanding that 17-year-old Ohioans turning 18 before the general election should have their primary ballot votes counted. Franklin County Common Pleas Judge Richard Frye ruled in Sanders' favor, Reuters reported, but Ohio Secretary of State Jon Husted subsequently promised to appeal the decision.
The Sanders campaign filed a lawsuit against Husted in the hopes that 17-year-olds who will be legally able to vote on Election Day in November will have their vote counted in the state's primary next Tuesday.
Currently, 17-year-olds with 18th birthdays before the general election can vote in the primary ‒ and have been able to do so since 1981 ‒ but their choice for presidential nominee won't count, according to directives issued by Husted in both 2012 and earlier this year.
17yr olds CAN vote in the primary (if 18 before general) but only on nominating candidates, not on issues or final elections.

— Jon Husted (@JonHusted) March 7, 2016
"You'll be able to vote in the contests that are nominating contests, where you're nominating someone who will be on the ballot in November," Husted said. "The Congressional primary, or the U.S. Senate race, you are actually participating in a nominating process for your particular political party."
However, previous Secretary of State Jennifer Brunner issued a directive (PDF) in 2009 that said the only votes by such 17-year-olds that would not count were "one-time questions on issues like school levies or statewide ballot issues" and "the election of state or county central committee persons."
Sanders has strong support from younger voters, and stepped in to help his base on Tuesday.
"It is an outrage that the secretary of state in Ohio is going out of his way to keep young people – significantly African-American young people, Latino young people – from participating," Sanders said in a statement.
Some people say young people are apathetic. It seems to me like they are ready to transform America.

— Bernie Sanders (@BernieSanders) March 9, 2016
It's not the first time Husted has been accused of going out of his way to keep young people from participating. In May, students sued over (PDF) the elimination of the so-called "Golden Week" of early voting where citizens could register and vote on the same day. In 2012, a federal court had to step in to decide if Husted allowed a contractor to update voting machines with a software patch that contained a backdoor that could allow unauthorized persons access and manipulate votes placed in the key battleground state. That same election cycle, he was also accused of violating an Ohio state law when he issued a directive that all provisional ballots incorrectly filled out should be trashed.
Sanders' is not the only lawsuit filed against Husted on Tuesday over the counting of 17-year-olds' votes. The Fair Elections Legal Network, a national voting-rights group, also sued, arguing that the secretary of state misinterpreted state law.
"The students in this case are excited about voting in the presidential primary. They've been following the races, doing their research and they have a statutory right under the Ohio elections (law) to vote," Rachel Bloomekatz, an attorney representing the students, told the Dayton Daily News.