Tesla accuses GM of 'authoring and pushing' bill to stop its sales in Indiana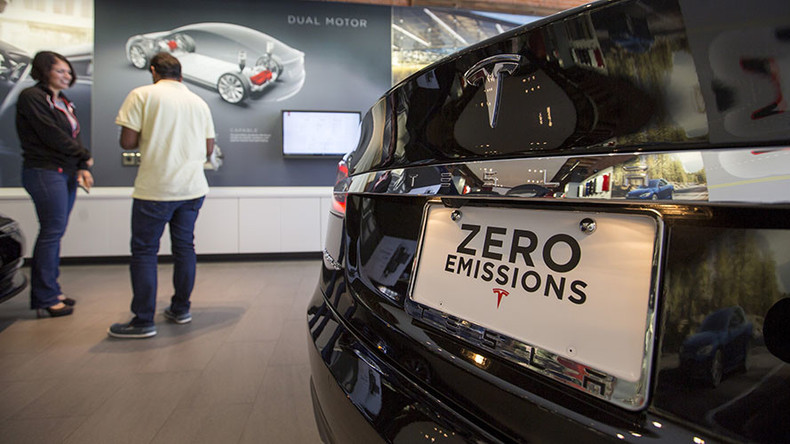 In an open letter to its "owners and enthusiasts," Tesla Motors, Inc. claimed that General Motors Co. had used its political influence to legislate away Tesla's unique direct-sales methods through an Indiana bill.
"We need your help," the Tesla letter opens, calling on supporters to "let your voice be heard" at an Indiana House Roads and Transport Committee hearing on Thursday, February 25.
The legislation in question, Indiana House Bill 1254, would "provide that a dealer license issued to a manufacturer expires after 30 months and may not be renewed," meaning that Tesla would no longer be able to do things differently than traditional car dealerships in the state.
Instead of being able to directly sell to customers after its dealer license expires at the end of 2017, Tesla would have no choice but to sell its products under the dealership model in accordance with state franchise laws. That is if Tesla business isn't "shut out" of the state, as the company suggests is GM's goal.
"General Motors is trying to kick us out of the state for purely competitive reasons," said Todd Maron, general counsel for Tesla. "Authored and pushed by General Motors," the Tesla letter reads, "HB1254 with amendment 3 would prohibit any manufacturer from being able to hold a dealer license after December 31, 2017. Existing law allows ANY manufacturer to apply for a dealer license without the use of independent franchised dealers."
"I want Tesla here," Indiana State Representative Kevin Mahan (R), who introduced HB1254, said during a Roads and Transport Committee hearing last month. "But they need to have a dealership. This bill gives them two and a half years to put a dealership system in place."
Both Tesla and GM plan to bring cheaper electric models to the market in 2017.
"This is about protecting my constituents," Mahan told Bloomberg. "If someone wants to spend over $100,000 on a car, that's one thing. But when you are talking about a car costing $30,000 or $40,000, consumers ought to be able to drive to their local dealer and have a face-to-face conversation."
While Tesla has not proven its allegations about GM writing HB1254, GM hasn't denied the charge either.
"GM supports HB 1254," the company said in a counter statement. "GM believes that all industry participants should operate under the same rules and requirements on fundamental issues that govern how we sell, service and market our products," adding, "Tesla could open a franchised dealership with an independent operator in Indiana today, but instead they insist that the State must first provide them with unique rules and special exceptions."
This is not the first time state legislation has affected Tesla's uncommon sales methods. Last year West Virginia and Texas banned direct sales and closed loopholes as Michigan and Arizona had done in 2014. In Colorado and Virginia, Tesla boasts a single storefront in each state due to laws favoring franchise dealerships. Not all state trends are against Tesla, however, as New Jersey reversed its ban on direct sales in 2015.