Flawed lead testing? Philadelphia water utility fights new accusations
Published time: 22 Feb, 2016 17:15
Edited time: 28 Feb, 2016 23:47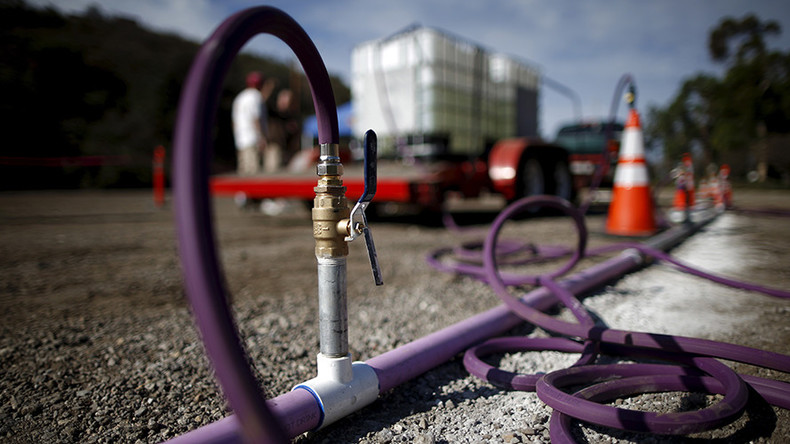 Testing by the Philadelphia Water Department for traces of lead in the city's drinking water was substandard, given the small percentage of homes known to have lead pipes that were included in a mandatory sample, a new report says.
Pennsylvania's largest city has as many as 50,000 homes with lead pipes. Yet the official, state-mandated lead tests in the city included only 34 high-risk homes in its sample, according to a report based on documents obtained by NBC News.
While its lead-testing program is voluntary, the Philadelphia Water Department (PWD) was accused of testing far more homes considered low-risk for lead from corroding pipes getting into drinking water. Pennsylvania requires the testing of at least 50 high-risk homes, defined as structures built before a ban on pipes or water service lines containing lead.
Water department representatives told the Philadelphia Inquirer that "testing far exceeded" that 50-home minimum, as 134 homes in all were surveyed after solicitation letters were sent to more than 8,000 city residences in older areas of the city. Of those thousands of invitations to participate, only 334 housing owners applied. Of the 134 finally tested, 34 had lead pipes and 100 of the dwellings had plumbing built with lead solder.
In response to the NBC News report, the state Department of Environmental Protection is reviewing city testing results from 2014, the Inquirer reported. A spokesperson for Philadelphia Mayor Jim Kenney contested the report's validity.
"The basic facts of this article are simply inaccurate," Mike Dunn told the Inquirer. "For example, all 134 homes in the survey were high-risk as defined by the EPA."
Water surveys in 2014 found that eight of the 134 homes tested in the city had lead levels above 15 parts per billion, the "action level" that triggers a warning from the city. Ninety percent of homes tested must fall below that level for a city system to be compliant with state law. Dunn said in the cases where levels were too high, Philadelphia Water helped home owners mitigate the source of lead.
The water department's protocol for lead tests used faulty, substandard residence sampling that ultimately helps downplay lead in plumbing, said Marc Edwards, a leading expert on municipal water quality whose research played a part in revealing the extent of lead contamination in Flint, Michigan.
"I have the utmost respect for the folks in Philadelphia, and if this is what's going on in Philadelphia I shudder to think what's going on in the rest of the country," Edwards, a researcher at Virginia Tech University, told NBC News of Philadelphia Water Department, a water utility that is considered to have a good reputation compared to others like it in the US.
The Water Department has also been criticized for not asking residents or owners to remove aerators from water faucets prior to taking samples. Aerators can catch lead particulates, tainting a water sample.
Consistent testing in Philadelphia has been difficult since the sample pool is purely voluntary, Gary Burlingame, director of the Water Department's Bureau of Laboratory Services, told the Inquirer.
The controversy comes amid the Philadelphia Water Department's push for a rate increase.