Scary Shkreli: Witnesses in case against pharma bro fear intimidation, harassment
Published time: 20 Feb, 2016 05:47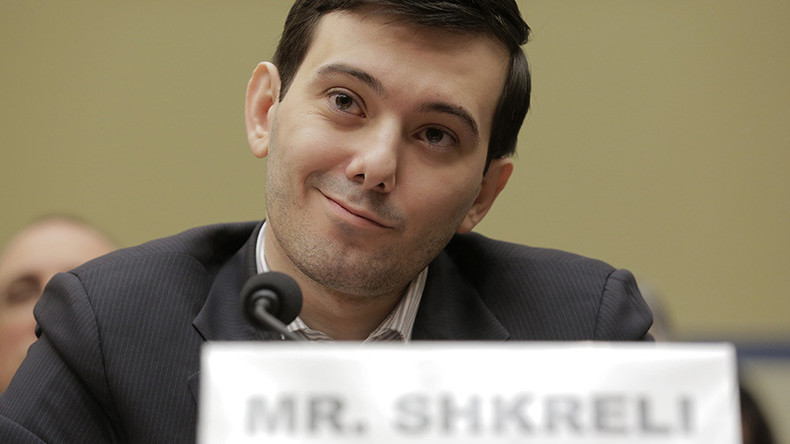 Witnesses in the criminal securities fraud case against former pharmaceutical executive Martin Shkreli feel intimidation due to threats they received from the 'pharma bro' in the past.
Prosecutors want to delay a related US Securities and Exchange Commission (SEC) lawsuit for, among other reasons, the "well-founded concern of witness intimidation based on defendant Shkreli's past behavior," Reuters reports.
Although the specifics of Shkreli's intimidation against the prosecutions' witnesses have not been released, there have been reports supporting him behaving aggressively towards business adversaries.
In December 2015,the day before he was arrested, Shkreli gave an interview to HipHop DX, a music website. In the interview, Shkreli referred to a 2013 lawsuit where he threatened Tim Pierotti, a former colleague.
Shkreli confirmed in the interview that he "threatened that f***ing guy and his f***ing kids because he f***ing took $3 million from me and he ended up paying me back." He also had the man followed, admitting that "I had two guys parked outside of his house for six months watching his every f***ing move."
In September, Gawker reported that court documents alleged that Shkreli had harassed the wife and son of the same former colleague. The documents contain a letter written to Kristen Pierotti, Tim Pierotti's wife, saying: "When I initiate my litigation, I will sue both you and your husband for fraud. I am going to inform the bank who holds your mortgage and local police department that you have committed fraud. I hope to see you and your four children homeless and I will do whatever I can to assure this."
He also messaged Kristen on Facebook, along with her 16-year-old son. Shkreli reportedly went as far as texting Kristen Pierotti, one of which read "Hey sweetheart."
However, Shkreli's attorney, Benjamin Brafman, doubts the validity of the prosecution's claims. "While his keen 'intellect' can at times be intimidating to mere mortals," Brafman said in an email to Reuters, "nothing else about (Shkreli) is intimidating at all."
Martin Shkreli was the infamous CEO of Turing Pharmaceuticals, a company that raised the cost of a medicine used to treat a parasitic infection by 5,000 percent. Daraprim treats toxoplasmosis, a disease that affects tens of millions of people in America alone, Gawker reports. However, he was forced to resign from his position at Turing following his arrest in December.
The US prosecution's bid to delay the SEC lawsuit works against a bid from Shkreli's team that sought to take depositions and obtain evidence in the SEC civil case.
Shkreli was arrested on December 17 on securities fraud charges. Prosecutors accused him of illegally taking stock from Retrophin Inc. to pay off his personal debts from unrelated business dealings as a hedge fund manager for MSMB Funds.
Shkreli started the biotechnology firm in 2011, but was ousted from the company in September 2014 and sued by its board of directors for $65 million.
The SEC accused Shkreli of misleading investors and prospective investors in MSMB Capital Management about the fund's size and performance, claiming in July 2010 to have "returned +35.77 percent since inception on 11/1/2009."
Actually it generated losses of about 18 percent. In December 2010, Shkreli "falsely stated" that the fund had $35 million in assets under management when it had less than $1,000 in assets in its bank and brokerage accounts.