Porn industry declares victory after state health board rejects condom mandate
Published time: 19 Feb, 2016 05:08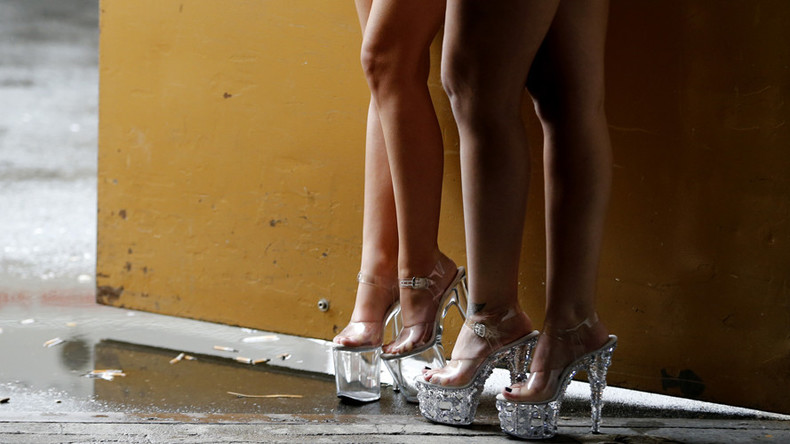 One vote made all the difference Thursday night in Oakland, California, where adult film actors and producers argued against a proposed statewide safety regulation requiring not only condoms, but goggles and dental dams according to some interpretations.
The state's Division of Occupational Safety and Health Standards Board (Cal/Osha) voted 3-2 in favor of the standards, known as § 5193.1, but four votes are required for passage and two voting members were absent.
The Free Speech Association, a trade organization for the adult entertainment industry, live-tweeted the hearing.
The decision came after more than five hours of testimony, which included arguments from porn actress Maxine Holloway, who said if the condom requirement were implemented, no one would watch law-abiding porn videos. That would force the multi-billion dollar industry underground, unintentionally creating a less-safe environment, whereas the status quo already provides for some protection like mandatory testing for sexually transmitted diseases every 14 days.
"I ask you not to approve this policy that will endanger me and my colleagues," Holloway said.
Cal/Osha Spokeswoman Julia Bernstein told the Associated Press the board will move on to consider other measures to regulate the adult film industry, but some workers believe more regulations in the name of health safety could backfire.
"I know you guys work really hard and have our best interests at stake, but we need you to work with us to find a solution," porn actress and reporter SiouxsieQ told the board. "When you criminalize sex work in any way, you make it more dangerous."
Even Jessica Drake, who is a director with Wicked Pictures, a condom-only producer of adult films, came out against the regulation.
The condom issue was only one part of the 21-page proposal the board failed to pass. Besides referring to engineering controls "such as condoms," it also made producers responsible for the costs of medical visits and treatment, according to the AP.
Porn news publisher Xbiz wrote the regulations "suggest that adult performers might be required to wear goggles to avoid ocular infections and dental dams for oral sex," pointing to the proposal's language requiring "barrier protection for eyes, skin, mouth and mucous membranes" when there is risk of contact with OPIM, or other potentially infectious materials.
According to Xbiz, "Cal/OSHA defines OPIM as not only semen but also pre-ejaculate, vaginal secretions and other bodily fluids," which is where the goggles and dental dams would come in the publisher maintains.
The AIDS Healthcare Foundation (AHF), which was behind the proposal, called that interpretation a "fantasy," the AP reported.
In 2012, AHF was instrumental in passing a mandatory condom ordinance in Los Angeles County. Within a year, permits for porn productions fell 90 percent, according to FilmL.A. Inc., the non-profit that processes permits for the city and county.
AHF is expected to continue its fight, as the Los Angeles Daily News reports it will push a California ballot initiative in 2017.