Segregation? S. Dakota senate under fire after passing anti-transgender 'bathroom bill'
Published time: 18 Feb, 2016 14:20
Edited time: 18 Feb, 2016 16:45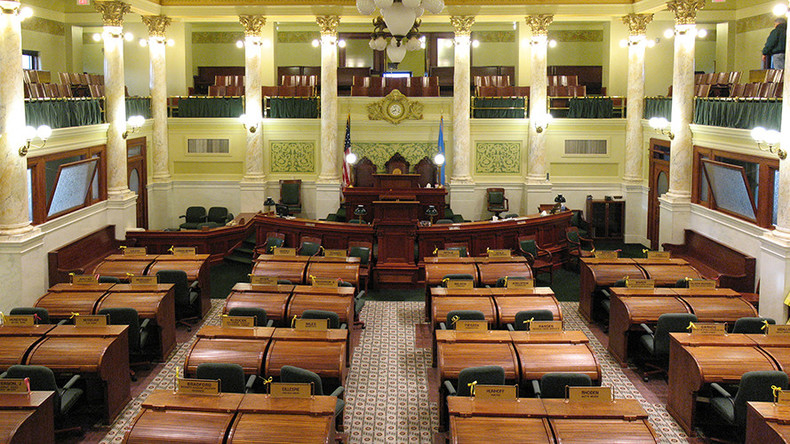 South Dakota is just a governor's signature away from becoming the first US state to legally require transgender students to use bathrooms and locker rooms according to their sex at birth.
Supporters of the bill, HB 1008, say it is meant to protect the privacy of students and is not meant to be hurtful in any way. Opponents say it is discriminatory and believe it will send a message that, "it's ok to segregate, humiliate and bully transgender students."
The bill was passed Tuesday by the state's senate by a 20 to 15 vote.
The wording of the bill states that schools will have to provide "reasonable accommodation" for transgender students, as every restroom and locker room that students can use, will be designated by their biological sex – referring to one's sex at birth.
One person, who would be severely impacted if the ruling is passed, is 18-year-old Thomas Lewis, who is transgender. He says that all his teachers call him by his new name, but says the new law "makes me feel like I'm not a human being."
"The law means that no matter what people might think at school, how they might accept me at school, the state doesn't," he said, according to AP.
South Dakota's Republican Governor Dennis Daugaard will make the final decision on whether to pass the legislation. He initially seemed to look positively at the proposal, but later stated he needed more time in order to look into the issue in more depth and listen to testimony before making a final decision.
Senator Brock Greenfield is one person who is in favor of passing the legislation, saying, "We recognize there are a number of concerns, but let me just ask you: do you feel it appropriate for a 12-year-old girl to be exposed to the anatomy of a boy?"
Meanwhile Republican Jim Bolin, the bill's sponsor, said that claims of different gender are "profound," while they also challenge "many basic concepts as to the nature and character of life and society," as cited by AP.
Those against the bill have launched a petition on the American Civil Liberties Union website and have already managed to amass in excess of 17,000 signatures.
"If Governor Dennis Daugaard signs the bill into law, it could set a horrifying standard for the rest of the country to legislate hate," a statement by the organization read.
Democrat politicians are also saying that the bill could affect South Dakota financially if it is passed. Federal officials say that barring students from restrooms that match their current gender identity is illegal under the Title IX anti-discrimination law.
"The principal objective of Title IX is to avoid the use of federal money to support sex discrimination in education programs and to provide individual citizens effective protection against those practices," an overview on the US Department of Justice website read.
Democrats say that if the controversial legislation is introduced, this could mean that federal government could stop funding public schools, while it could also open the way for numerous costly law suits.