'Lock and load, ladies': Navy SEAL who shot Bin Laden says women can serve in special ops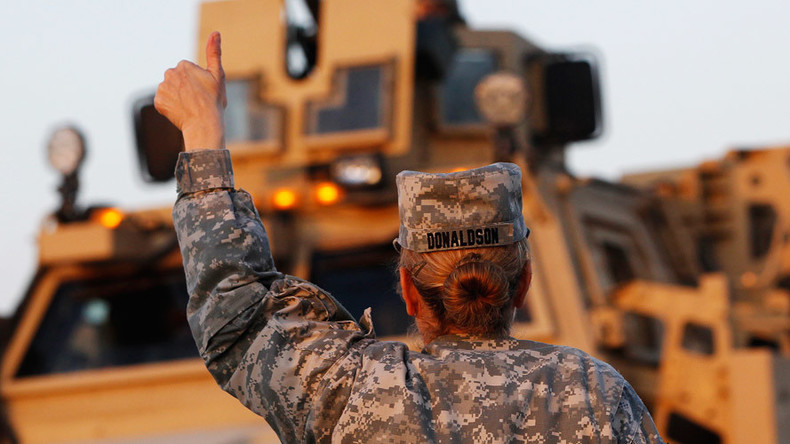 A former Navy SEAL who claimed to have shot Al-Qaeda leader Osama Bin Laden stunned a Fox television host when he said he supported women serving in combat as long as "they [US military] don't lower the standards."
"So, I like to say, lock and load, ladies," Rob O'Neill said during an interview about the US military's recent announcement that women could go into active service and into combat duty across all Pentagon forces.
Special Forces have argued women are not prepared for duty on the front lines, and that the service is not prepared to bring them in at this point.
Fox host Stuart Varney asked O'Neill if he thought women should be part of special operations teams such as those that shot Osama Bin Laden.
"I've operated with women," O'Neill explained, in the video posted by Raw Story. "They've actually come with us on special operations. We use them a lot for some of the searching of women and children, cultural sensitivity type stuff."
"Also, I know these Islamic fighters, they don't fear death, but they do fear Hell," he continued. "And if they are killed by women, they go to Hell as far as they know."
"If they don't lower the standards and they pass them, I think they should get a shot."
O'Neill claimed he was the shooter who delivered head shots to Bin Laden, publishing an account of the assassination called "The Man who Killed Osama Bin Laden" in October 2014.
Fox's Varney admitted he had never been in combat, but wondered how O'Neill could feel safe with a female SEAL team member, and whether having a woman as part of the team wouldn't change the group dynamics.
O'Neill agreed that women could "potentially change the dynamic," and the last thing he was suggesting was that the military make special operations a social experiment, but maintained he was comfortable with women in combat "if the standards stay the same."
O'Neill said most men who try out for the Navy SEALS don't make it, and he thought a greater number of women wouldn't make it if they are going to try.
"It's equal opportunity type stuff," O'Neill exclaimed. "If they don't lower the standards, yes, they should be able to."
He said there are definitely places for women in intelligence operations and reconnaissance. "Women and men working together is better," he added.
Varney, however, disagreed: "I think men have a sort of hunter-gatherer mentality. They go out and break things and kill people."