Homeless Florida man shuts down bridge after stealing backhoe for joyride (VIDEO)
Published time: 17 Feb, 2016 02:34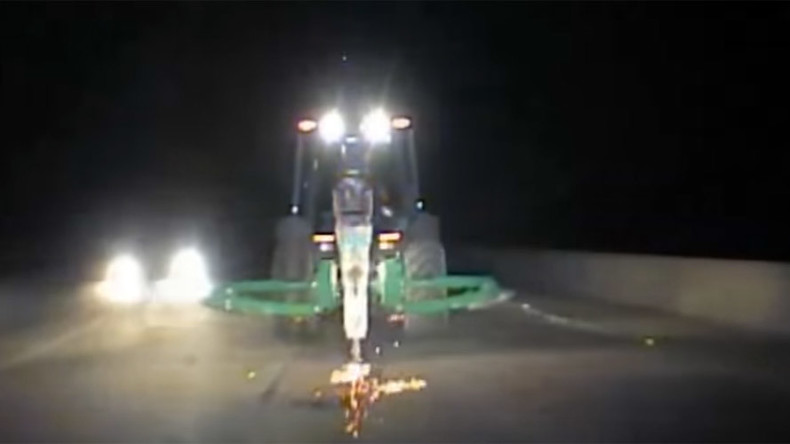 A 59-year-old Florida man shut down the Florida Keys' famous Seven Mile Bridge on Tuesday by driving across it with a backhoe. The man's backhoe joyride lasted for only 90 minutes, but the rubble he left in his wake shut the bridge down.
The joyride began around midnight, the Miami Herald reports. Carl Blahnik began his Mario Kart-inspired crime spree by stealing the backhoe, which had been left with the keys in the ignition by a construction project.
According to Monroe County Sheriff's spokeswoman Becky Herrin, Blahnik's inspiration for the unusual crime had something to do with speeding motorists. Herrin told the Miami Herald that, ""He apparently was saying something about people driving too fast," adding, "he wasn't really too coherent."
Once Blahnik commandeered the vehicle, he began by dumping boulders at the north end of the Seven Mile Bridge, and from there he headed south. However, he quickly changed direction and forced two deputies to reverse to get out of the way, according to Herrin. One deputy's dashcam recorded the wild ride.
For an hour and a half, Blahnik drove back and forth over the bridge while deputies attempted to pull him over. However, they were unsuccessful and Blahnik hit the side of the bridge several times, and caused enough damage to it to shut it down until 3:00 a.m. Unable to convince Blahnik to pull over, Herrin said that he was not stopped until he left the bridge and hit spikes that deputies had placed on the road.
Blahnik was only carrying a Wisconsin identification card, but it is believed that he is homeless and living in the woods. Despite that, Herrin noted that he appeared to have experience driving the backhoe. She pointed out that he did "pinpoint pivots on the bridge."
Now with his wild ride behind him, Blahnik is facing felony counts of fleeing police, grand theft auto, aggravated assault and criminal mischief. He also faces misdemeanor counts of reckless driving, failing to register a motor vehicle, and – in what sounds like a massive understatement – littering and digging up a public road.