FBI fails to crack San Bernardino shooter's encrypted phone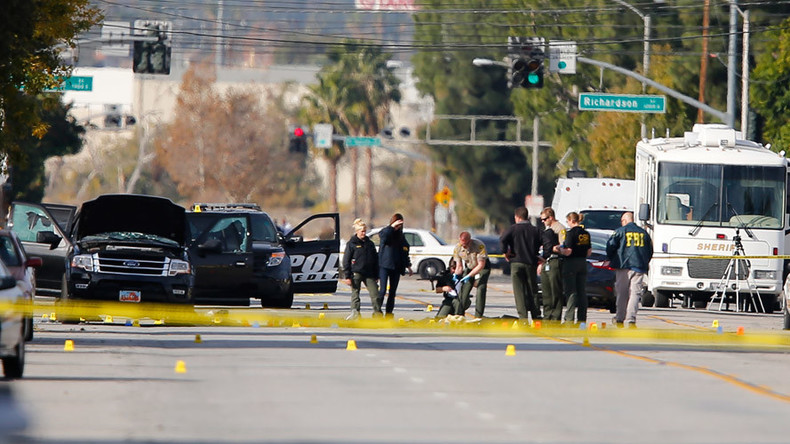 Months into the investigation of a December massacre in San Bernardino, California, the FBI is still unable to "unlock" a phone belonging to one of the shooters, the agency's director said while testifying before a Senate committee.
"San Bernardino, a very important investigation to us, we still have one of those killers' phones that we've not been able to open," FBI Director James Comey said at the Senate Select Committee on Intelligence's annual "worldwide threats" hearing.
"It's been over two months now, we're still working on it," he added.
READ MORE: FBI investigates San Bernardino shooting as 'act of terrorism'

The two cellphones used by Syed Rizwan Farook and his wife, Tashfeen Malik, prior to the December 2 attack are the main focus of the investigation, as they could potentially shed more light on their preparations, motives, and links to other terrorists, as well as the possibility of more attacks.
However, encryption is blocking the FBI's efforts, Comey argued.
"I'd say this problem we'd call 'going dark' […] which is the growing use of encryption, both to lock devices when they sit there and their communications as they move over fiber optic cables, is actually overwhelmingly affecting law enforcement," Comey said, adding that it has also had "an impact on our national security work."
On December 2, Farook and Malik opened fire at the Inland Resource Center in San Bernardino, killing 14 people and injuring 21.
Two weeks after the attack, investigators revealed that they had discovered several messages sympathetic to jihad that Malik had sent to a small group of friends in Pakistan. Federal law enforcement is still trying to find out whether Farook and Malik received direct encouragement, financial support, or instructions from a foreign terrorist organization before carrying out the massacre.
The couple had deleted emails, cleared their phones, and destroyed some items at their Redlands home before carrying out the attack.
"As to those devices [two phones and a missing hard drive], obviously we've said from day one, the digital footprint is incredibly important for us to hopefully learn any contacts, any context, and ultimately any intent on their part," David Bowdich, Assistant Director in Charge of the FBI's Los Angeles Field Office, told Fox News in January.
However, despite some technical difficulties, cracking open the device is not entirely impossible. A recent Harvard study also said that law enforcement has options when trying to overcome encryption, and that end-to-end encryption isn't likely to become widespread in blocking out officials.
"There are and will always be pockets of dimness and some dark spots — communications channels resistant to surveillance — but this does not mean we are completely 'going dark,'" the 37-page study title "Don't Panic" said. "Some areas are more illuminated now than in the past and others are brightening."
You can share this story on social media: