NYPD officers patrolling public housing complex shot at, suspect commits suicide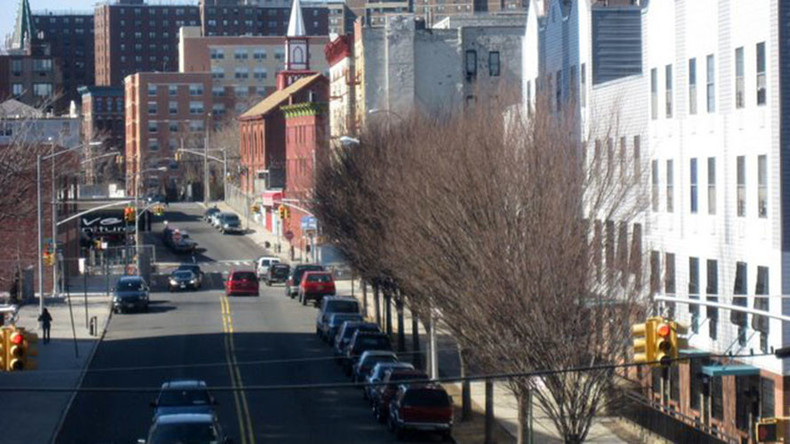 Two New York Police Department officers were shot and injured after confronting two men in a public housing complex. The officers are in stable condition, while one suspect is believed to have committed suicide and the other is in custody.
Three uniformed NYPD officers were conducting "a vertical patrol" at the Melrose Houses complex in the Bronx on Thursday evening when they encountered two people inside a stairwell. One man pulled a gun and opened fire on the cops, NYPD First Deputy Commissioner Benjamin Tucker said at a press conference.
The suspect then fled into an apartment on a higher floor. The gunfire sent the residents of the public housing complex running.
Officer Patrick Espeut, 29, was struck in the cheek. Officer Diara Cruz, 24, was hit in the abdomen. The unnamed third officer was not injured. Both injured cops have two years' experience on the force. They were taken to Lincoln Hospital, where they are listed in stable condition.
"When I came down, all I see is cops, helicopters all over the place, people on the corner wondering what happened," resident Matt Satuey told WCBS.
"I just heard a few very loud shots and then I just came running on the block," another resident said. "The helicopters were there right away."
When responding officers entered the building, they found the gunman dead of an apparent self-inflicted gunshot wound. Several other people were inside the apartment, where police recovered a semi-automatic firearm and a shotgun.
Katherine Martinez was in the building's lobby when she heard three gunshots. She then saw the two officers being brought down to waiting ambulances. The man's head was wrapped, while the woman was on a stretcher, she told the Wall Street Journal.
"When I first saw them I didn't know they were cops," she said.
Proud of my officers, hopeful for their speedy recovery, grateful for the many expressions of concern and support on their behalf.

— Commissioner Bratton (@CommissBratton) February 5, 2016
Mayor Bill de Blasio met with the officers' families at the hospital, according to the Wall Street Journal.
"Thank God, so far, in both cases, their condition is good," he said.
"It's another example of what our officers confront every single day, keeping us safe not only on the streets of New York City, but in the stairwells and hallways of our public housing developments," de Blasio added.
Police later confirmed the identity of the gunman as 23-year-old Malik Chavis.
The other person from the stairwell has been arrested, Tucker said. At least three other people who were in the apartment have been taken to Precinct 40 for investigation, where they are said to be cooperating.
The Melrose development houses nearly 3,000 residents, many of whom were kept out of their apartments as investigators searched the building, looking for additional evidence, WCBS reported.
"Vertical patrols" require pairs of officers to sweep the stairwells of public housing projects with flashlights and service weapons, starting in the lobby, climbing the stairwells up to the roof and walking back down. The head of the police union said Thursday's incident shows just how dangerous such patrols can be.
"This shows the complex nature in which we work. This shows the difficulty and danger of vertical patrols in our buildings," Patrolmen's Benevolent Association President Patrick Lynch said. "We need your support to teach your young folks that pulling a gun on a police officer works for no one."
In November 2014, rookie NYPD Officer Peter Liang was conducting just such a vertical patrol when he shot Akai Gurley in the chest without a warning, killing the 28-year-old. Liang has pleaded not guilty to second-degree manslaughter, saying that his gun fired accidentally.
Both Espeut and Cruz are assigned to the Housing Borough Bronx/Queens IRT team, police said.
You can share this story on social media: